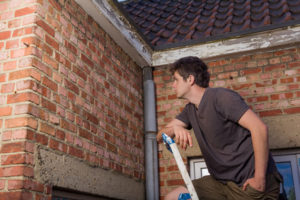 Are you thinking about selling your home? When you sell a home, in most case, there will always be a home inspection and with a home inspection, there could be costly repairs request. Best get ahead of the home inspector and know what a home inspector will be looking for. Fixing any items prior to a home inspection cansave you lots of money afterward. Once a home inspector identifies an issue,  the buyer will be asking for repairs by a licensed contractor. Even if the item could easily be repaired by the seller. Here is a previous blog post on how to get your home ready for a home inspection.
When selling a home what does the inspector look for?
The inspector will look at everything. When I meet with home sellers I normally take a look at the house and give them some tips.
Let's start outside:
Are there any cracks in the foundation or walls? If so have them patched prior to listing the home or definitely prior to an inspection.
Are there shrubs or trees that are too close to the home? Trim them away from the home, this will also help with curb appeal.
Grading. Take a look at your front and backyard and make sure the grade is going away from the home.
Be sure the gutters are attached correctly and if there are leaves in them clean prior to home inspection
Replace torn screens
AC insulation line. Inspector will look for the AC insulation line. If it is torn replace it. The insulation might cost $5.- at Home Depot or Lowes
Inside the home:
The home inspector will test all appliances make sure they are in working order
For the dishwasher be sure the drain has a high loop
Check all windows to making sure they can be open and closed
Be sure all smoke detectors are in working order
The inspector will check open the electric panel and HVAC, be sure HVAC has been serviced and electric panel doesn't have any double tapping
Change HVAC filter
Attic will be checked for enough insulation and for any water stains on roof. Be sure to have it fixed prior
Any water stains anywhere in the home are always a concern. Or any visible repair patches on drywall ceilings.
Electrical outlets near water should be GFCI protected (Bathroom and Kitchen) and all electrical outlets need to work properly
Check for loose toilet, leaking pipes and diverters that are not properly working. If a shower tub is running as shower water shouldn't come out from both
All showers and bathtubs should be properly caulked, same with windows and
Home buyers and their agents can normally tell if a home has been well-taken care off or if a home owner has been lacking on regular maintenance. The better the condition of the home generally the higher the sale price or faster an offer will come in. A buyer doesn't want to be stuck with expensive maintenance tasks after purchasing a home.
A home seller can always get a home inspection done prior to listing the home, but keep in mind that the buyer will be doing their own inspection regardless. Yes, you can definitely pay a home inspector to inspect your home prior to listing the home. Once the home inspector inspects your home you have a to-do list. You have been living in your home and you probably know what's working and what's not working you can use the above list and save yourself the money for the inspection. You can also ask your trusted contractor to look at the above items and making sure everything is in good condition.
Considering selling your home and you are in the beginning stages you might be interested in finding out what your home is worth. You can find out what your home is worth right here: What is my Home worth? Or you can call Claudia S. Nelson and her Real Estate Team at 571-446-0002 to find out more about the home selling process and what your home is worth in today's Real Estate market.
Claudia S. Nelson is an award winning Realtor® with Keller Williams Realty in Woodbridge VA. She has helped many local home sellers and home buyers with all their Real Estate Needs. If you are looking to sell or buy, in and around the Woodbridge VA area you should call Claudia and her team at 571-446-0002. We are looking forward to assisting you.