Woodbridge VA Real Estate Market July 2017
By Claudia S. Nelson
571-446-0002
Keller Williams Realty Professionals Woodbridge VA

From Lake Ridge to Dale City to all communities in Woodbridge VA, when it comes to Real Estate you have come to the right page. Claudia S. Nelson and her Real Estate Team can help you with all Woodbridge VA Real Estate Related questions. If you are looking to purchase a home, sell a home, invest in Real Estate or need help with a Rental we can help you. You can call 571-446-0002.
Woodbridge VA Real Estate Market Update
Lets examine what has been going on in the Woodbridge VA Real Estate Market so far in 2017. We are half way through the year, and yes time goes by so quickly when you are having fun.
Spring Real Estate Market
The Woodbridge VA Spring Real Estate Market has been very strong. Here is a previous blog post I specifically wrote about the spring Real Estate Market in Woodbridge VA.   Let me recap. The spring Real Estate Market in Woodbrdige VA has seen many more buyers than sellers. Many homes received multiple offers leaving some buyers quiet frustrated. Home that were priced right and in good condition sold quickly. We have also seen more home owners consider selling their home and moving up to larger home. Some home sellers were both buying and selling at the same time. With the Market the way it was/is it didn't prove as easy to purchase a home with a home sales contingency. Meaning buying and selling a the same time.
Move up Buyers
We have seen a good amount of home buyers that also had a home to sell. During the spring market we have seen a record breaking activity in all price ranges. Now it has slowed down slightly, but the first time home buyers range is still very strong. Although some home buyers have taken a slight break from shopping for homes and spending time on summer break. The fourth of July weekend was quite strong with buyers still out looking but it has slowed down a bit.
Interest Rates
In the beginning of the year everyone thought interest rates would go up. That really hasn't been the case. Interest rates were pretty stable and even dropped a bit in the first half of the year. We are just now seeing interest rates inch up a little bit. I still predict interest rates to move up higher for the rest of the year but quite frankly no one has a crystal ball and a lot of things can happen. One of the reasons we saw such a strong market in the first half of 2017 has been due to the fact that home buyers wanted to take advantage of still good rates.
Higher Home Values
Another reason for the strong market has been the higher home values in and around Woodbridge VA. Many sellers that were under water now were able to break even or make a profit. Also, many home sellers that bought after the market crashed saw home values go up and they were able to realize a gain in their investment. I personally worked with many home sellers that bought around 2010 to 2013 and were able to see home values move up and realize a profit by selling and or use their profit to invest into a move up home. Moving from townhouses to single family homes, or moving from a single family home to a larger single family home. I also saw the downsizing home sellers, that sold their large home to move to a condo or smaller home.
Woodbridge VA Great Place to Call Home 
Woodbridge has gone through so much change over the past couple of years alone and it is such a great place to calling home. Woodbridge is a convenient location for anyone working in the DC area, at Quantico or Fort Belvoir or pretty much anywhere in the Northern Virginia area. Home prices are affordable compared to other areas in Northern Virginia. Buyers generally can get more home for their money in Prince William County compared to Counties closer to the DC area. Also there have been so many new restaurants and infrastructure coming to Woodbridge. If you are not familiar with Woodbridge VA here are some more interesting facts about Woodbridge VA. 
How to Sell a Home in or around Woodbridge VA
Where to start
Claudia S. Nelson with The Claudia S. Nelson Real Estate Team is an award-winning Woodbridge VA Real Estate Agent that has sold many homes in and around the Woodbridge VA area and it would be my pleasure to assisting you with the sale of your home. I will be happy to meet you at your home and provide you with a detailed plan on how to sell your Woodbridge VA home. If you work with me I will give you with some great advice on how to get your home ready for a successful sale.
There are a lot of things to consider with selling but one of your most important decision will be to hire and consult the right Real Estate Agent that can guide you with ease through the entire transaction.
Call The Claudia S. Nelson Real Estate Team at 571-446-0002 today for assistance.
Did you know well-placed furniture can open up rooms and make them seem larger than they are? Or that opening drapes and blinds and turning on all lights make a room seem bright and cheery? This is where your Woodbridge VA Real Estate Agent can provide you with a personalized recommendation on what you should do to prepare your home for a successful sale. It's a fact: acquiring the highest market value and elevating your home above others in the same price range often comes down to first impressions. The blog post has some ideas on how to prepare your home for a successful sale.
During the time your home is on the market, you'll want to make it look as appealing as possible to potential home buyers. You may think that the only way to accomplish this is to spend thousands of dollars on renovations. The good news is there are plenty of ways to spruce things up without breaking the bank. Check out these wallet-friendly house staging tips. Start with the outside, the curb appeal. Kitchen and Bathrooms sell homes. There is some easy and budget friendly tips on how to make sure your home draws attention and buyers are coming out to see your home.
How to sell a home in Woodbridge VA:
First and foremost you want to hire a local Real Estate Agent that has a proven track record of selling homes quickly and for top dollars. Someone that is familiar with your neighborhood and with the local Real Estate Market. A good real estate agent will help you with the next steps and make sure your home sells fast and for top dollars. I am specializing in Residential Real Estate in and around Woodbridge VA and I have helped many sellers. It all comes down to making sure you have a good Real Estate Agent on your side. The condition and price are key. Your Real Estate Agent can help you with both. You always want to make sure your home is priced right.
Condition
When you work with a Realtor®, like me, you will get a personal consultation on what you should do to get your home ready for a successful sale. I will walk through your home and make recommendations. Always keep in mind we can sell a home as is, but for the best outcome generally, some preparation will go a long way. I am not talking about major renovation prior to listing your home for sale, but there are a few things that every seller can do on a budget. When I look at your home I will provide you with tips and tricks to getting your home ready.
Price
It is crucial to price your property at competitive market value. Buyers and sellers determine value. In other words, the value of your property is determined by what a buyer is willing to pay and a seller is willing to accept in TODAY'S market. Buyers make their pricing decision based on comparing your property to other properties SOLD in your area. Historically,  your first offer is usually your best.
Pricing Misconceptions

Your home's value is NOT determined by the following: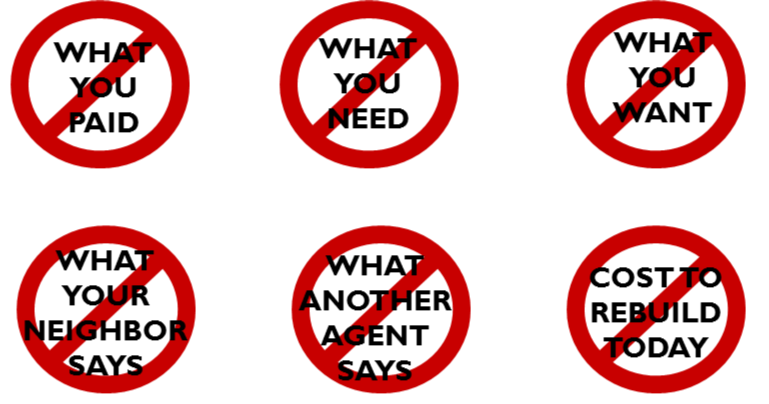 The inspector will look at everything. When I meet with home sellers I normally take a look at the house and give them some tips.
Let's start outside:
Are there any cracks in the foundation or walls? If so have them patched prior to listing the home or definitely prior to an inspection.
Are there shrubs or trees that are too close to the home? Trim them away from the home, this will also help with curb appeal.
Grading. Take a look at your front and backyard and make sure the grade is going away from the home.
Be sure the gutters are attached correctly and if there are leaves in them clean prior to home inspection
Replace torn screens
AC insulation line. Inspector will look for the AC insulation line. If it is torn replace it. The insulation might cost $5.- at Home Depot or Lowes
Inside the home:
The home inspector will test all appliances make sure they are in working order
For the dishwasher be sure the drain has a high loop
Check all windows to making sure they can be open and closed
Be sure all smoke detectors are in working order
The inspector will check open the electric panel and HVAC, be sure HVAC has been serviced and electric panel doesn't have any double tapping
Change HVAC filter
Attic will be checked for enough insulation and for any water stains on the roof. Be sure to have it fixed prior
Any water stains anywhere in the home are always a concern. Or any visible repair patches on drywall ceilings.
Electrical outlets near water should be GFCI protected (Bathroom and Kitchen) and all electrical outlets need to work properly
Check for a loose toilet, leaking pipes and diverters that are not properly working. If a shower tub is running as shower water shouldn't come out from both
All showers and bathtubs should be properly caulked, same with windows and
Selling a home with tenants can be tricky. If your tenants are helpful and they take good care of the home it can be a lot easier.
If there is anything you want to take with you, like a chandelier, curtains or something else that is built in remove it prior to listing the home. This way there is no issue later on. Be sure it is removed prior to taking the listing pictures. One of the most asked questions is normally regarding a washer and dryer, especially if a seller just recently purchased a new washer and dryer. They generally do not want to leave the washer and dryer. Again, if the washer and dryer are there while the home is on the market, prospective buyers can see it and are expecting the washer and dryer to convey. If they are not there during showings then there might not be as much of an issue. I have seen more deals fall apart due to buyer and seller getting emotional over a washer and dryer. My recommendation, do not lose a good sale over a washer and dryer.
Everything agreed upon in the contract will stay
Anything built in will stay unless otherwise agreed upon in the sales contract
Light fixtures will stay unless otherwise agreed upon in sales contract
All appliances will convey, this is also important for an appraisal
Window Treatments, including blinds, curtain rods, and curtains, will convey unless otherwise agreed to in sales contract
Washer and dryer unless otherwise agreed to in sales contract
Ceiling Fans will convey unless otherwise agreed to in sales contract
Built in shelving
Alarm System equipment
Scrubs & Trees
Settlement Fees
In the Woodbridge area Settlement fees range anywhere from $200 to $500 depending on settlement company used. Release of Lien(s) If you have a mortgage that means you will need to release the lien or liens. Grantors Tax The grantors taxes are relatively inexpensive. $1.00 per $1000.- of sales price. Congestion Relief Fee This is a relatively new fee and anyone selling in Northern Virgina has to pay this fee. The fee is going to help pay for traffic projects in Northern Virginia. Pest Inspection, Home Warranty,
HOA and or Condo Documents, Repairs, Real Estate Commission In the Woodbridge VA area sales commission vary depending on experience, locations, and company. Closing Cost Assistance. 
You can find the detailed list of how much it cost to sell your Woodbridge VA Home right
here.
It is never advisable to sell a home alone but if you are interested in going it alone here are some helpful tips if you are considering selling your home by owner. 
What is a Short Sale
A short sale is when a homeowner owes more on his or her mortgage than the current market value of the home. The bank will have to approve the difference in the sale price to what the borrower owns.
Where to start if you are considering a Short Sale
Hire a Realtor. Call a local Real Estate Agent that is familiar with the area and has successfully closed short sales before. If you hire Claudia S. Nelson,  as your Realtor, to help you through the Short Sale Process, I will have you sign an Authorization Form for myself and the professional negotiator attorney who will assist in the process.

Listing Consultation at your home or at my office.

Complete Listing Package including the Short Sale package for your lender or lenders if you have more than one mortgage on the property.

Claudia will market your home to find a qualified buyer that is willing to patiently wait until we receive short sale approval from your lender(s).
Once an offer is received and accepted by you, we will submit the offer along with the entire short sale package to your lender. The actual short sale approval can take as little as a 2 – 3 weeks or as much as 6 months, depending on your situation and the bank or banks involved.
Short Sale Approval & Settlement within 30 – 45 days from receiving the approval.
In a Short Sale transaction, the seller does not have to pay the Realtor commissions or any of the closing cost, the bank will cover all of these costs. The banks might not be covering taxes, past due HOA fees or any outstanding judgments.
You should also consult a local CPA or tax attorney to discuss any possible tax implication.
 A form of identification
Keys, bring all your keys to closing unless otherwise arranged with your agent. Be sure to not forget about mailbox key, any storage or attic key you might still have
Voided check
After Closing
Make sure utility service has been changed out of your name
Forward mail to your new address
Make sure you mortgage lender has your forwarding address
Stop any direct debits for mortgage payment or HOA or anything else
Make sure homeowners insurance knows you sold your home.
You should definitely consult with a Real Estate Agent if you are thinking about selling your Woodbridge VA Home. I would be happy to assist you. You can call me at 571-446-0002.
Woodbridge VA Real Estate Market July 2017
By Claudia S. Nelson
571-446-0002
Keller Williams Realty Professionals Woodbridge VA