If the stores and commercials haven't got you into the
holiday spirit yet, I'm convinced this will! As your Woodbridge VA Realtor®, I
always try to make it easy for you to find the best places to see Christmas
lights near you in Woodbridge, Virginia.  I've put together a list of the BEST home-spun holiday light displays in the Woodbridge, VA area. This year I've created a tour that will take you from house to house in Google Maps. The 
map
can be found at the very bottom of the blog. ENJOY!
Located at 15615 Bushey Drive, Woodbridge, VA, the Anderson family's private home off of Cardinal Drive in Woodbridge is transformed into a drive-thru
Christmas light show for everyone to enjoy. The tradition started more than 2 decades ago by owners, Mike and Teresa Anderson.  This is a FREE show and is available from 5:30 p.m. to 9 p.m.  This Woodbridge Holiday Light Show is full of colorful lights and our favorite family characters all in a great holiday
spirit! They manage to outdo themselves every year.  Please check the link for more information
including weather conditions that may affect show times.


The Jeager Family Christmas Display
The Jeager Family Light Display in Dale City has thousands of lights synchronized to music.  Another local family with the Holiday spirit.  As in past years, they are continuing their acceptance of non-Perishable Food Donations for the Local Food Bank. Last year's collection yielded 153 lbs of food and this year they are looking to surpass that amount! More info here.






Johnston Evandale Road Woodbridge, VA


When you see this holiday light display there will be no denying the Johnston Family loves Christmas. Located in Dale City on Evansdale Road, the Johnston's light display has been a fixture in the community for three years. This home-spun display has lights, ornaments, decorations and inflatables. In the true giving spirt, the the Johnstons enter their home in a competition in an effort to win money that they donate to help the homeless in the community.  Please take a look at this display and if they are associated with a competition be sure to cast your vote!
The 
Lake Ridge Christmas Lights
on Stone Lined Circle is an 
Animated Christmas light show set to a variety of traditiona
l and modern music. The shows run for about 20 minutes on the hour and half hour. The
 synchronized light show can be seen every night from 5 p.m. to 11 p.m. This is one house not to be missed!
Collins Family
Jim Collins and his family have been putting up a holiday wonderland at his home at the corner of 
Smoketown Road and Cavalier Drive in Lake Ridge
for over 12 years
. There are a number of inflatables filling the yard, everything from Santa to a holiday-themed Ferris wheel. The display was started for a much smaller audience, the first three grandchildren, however, the number of grandchildren have grown and so has the amount of delighted on-looker.  The display itself has grown immensely year by year with anywhere from 10-20 new additions every holiday season. This is a fun and light-hearted holiday display sure to please everyone especially, the little ones.
The Brittle Family
The Brittle family has been decorating 
14311 Fairview lane in Dale City
 for more than 30 years. This display is more traditional with figurines and lights rather than inflatables. This huge display of the joy and happiness of the holidays can be seen until around 10pm every night in December.
Radcliffe Family
Located at 
12557 McIntire Drive in Lake Ridge,
the Radcliffe's also 
have had a synchronized music and lights display that runs on a 25-minute loop of festive Christmas music.  The 
Radcliffe show has not been confirmed to be up for 2017, however last year this show was
 amazing! Will update once more information is available.
Carlton Family
The Carltons at 
13047 Qualls Lane
, Woodbridge, 22193, have a synchronized lights show from 5:30 p.m. to 10:30 p.m. Tune your radio to 88.1 to fully enjoy this display. This show is also not confirmed for 2017, but based on the buzz from last year, I wanted to add it to the list an the tour. 
The Rodriguez Family
Linna Rodriguez puts a lot of time and effort transforming her home for the holidays each year.  This "Home of the 20ft Santa" is one of the local favorites.  The spectacular home light show is located at 13730 Kaywood Drive, Woodbridge, VA, 22193.  Add this one to your visit list, as it is a must see! The family welcomes people to drive by and take pictures, so what are you waiting for?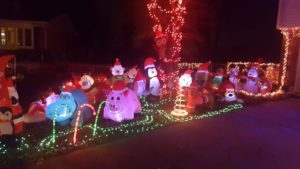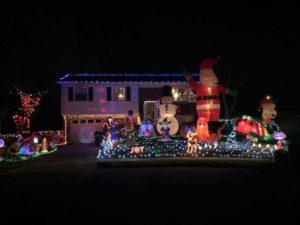 Two other shows I would like to mention are not in Woodbridge, VA but not too far either:
The Frank Family (Springfield, VA)
The 

Frank Christmas Lightshow

 at 7780 Tangier Drive in Springfield is so popular, even tour buses come have come by. The family display is composed of synchronized music and light shows (of the highest quality) and are from 6 p.m. to midnight every night. In the past the family has placed a donation box out front to collect for the Autism Society of Northern Virginia. IMPORTANT NOTE: It seems that the family is moving this year, but still planning on putting up their display.  The new location will be announced soon and updates will follow.

Tyler's Christmas Wonderland
This list of Christmas Lights Near you in Woodbridge, VA, Woodbridge VA Holiday Lights has been brought

to you by Woodbridge VA 



Realtor®, Claudia S. Nelson, with Exp Realty of Woodbridge, Virginia. 
For all your Real Estate Needs, 
Call or Text Claudia S. Nelson 571-446-0002
or 
email at Claudia@VARealEstateExperts.com