Rates are Rising – Are you Ready
According to the Freddie Mac Primary Mortgage Market Survey®, rates on home loans averaged over 7.0% for an entire generation from the 1970's until the year 2000 and over 6% from 2000 until 2008.
For the past decade we have enjoyed historically low rates. But Freddie Mac is predicting that rates will approach 5.0% by the end of 2018.
While predictions are not always accurate – Why take a chance and miss what could be possibly the last opportunity to purchase while the cost of money is on sale?
I just receive the above message from an excellent lender, Carol O'Connell with McLean Mortgages. This shows you how interest rates have been moving over the past several years. Looking back at 1985 or even 2005 rates are still comparatively low. Even with the expected rising interest rates. I also want to point out that no one has a Crystal bowl and no one really can predict the future, but we have seen rates go up quite a bit over the past couple of weeks. Of course that can change again and they can come down as quickly as they have risen.
Check out the below calculator that will give you some information on what could happen if rates go up even more and to see if that dream house is still within reach. With so many sellers that have low interest rates we might be seeing assumable mortgages come back.
We have prepared a special interactive calculator which demonstrates simply how an increase in rates can affect the affordability of a dream home.
Have you already taken advantage of today's low rates and not ready to move up? If you know anyone who is thinking about purchasing or refinancing, we would love the opportunity to provide assistance. Just let us know who to contact.
Not a commitment to lend. Rates are historical survey rates published by Freddie Mac and do not include fees and points. They should not be used for comparison purposes.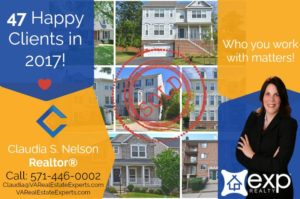 CALL Claudia S. Nelson
Woodbridge VA Real Estate Agent
eXp Realty
571-446-0002