Understanding the current real estate marker in Woodbridge can help you make sound decisions when it comes to buying or selling a home. Here's an overview of the Woodbridge Real Estate Market for January 2018.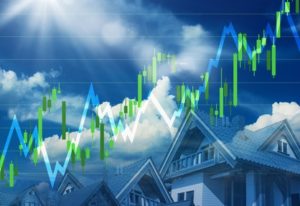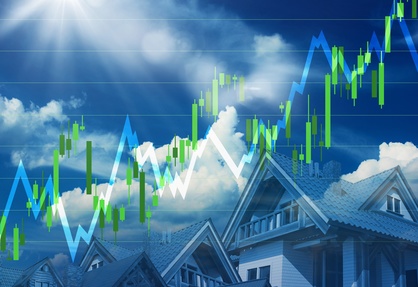 The Spring market has started very early this year in and around the Woodbridge VA and generally in the Northern Virginia area. Supply and demand at its best. We are seeing way more buyers out there than usually around this time a year and there is a limited amount of homes for sale, especially in the lower price range. Homes are selling very quickly in most cases with multiple offers.
With interest rates on the move, many buyers are regretting not purchasing earlier and they are all out and about now trying to get into the market before rates move up more. There are a lot of first time home buyers out there right now looking for the perfect home. There are also a lot of move up and move down buyers. Many are buying and selling at the same time, making it a bit more challenging when it comes to timing.
The lower price ranges, especially the price ranges in the 200 – 300 thousands are moving very quickly. Even homes below 400 thousand are moving fast right now. Newer homes and brand new homes in the higher price ranges are also moving relatively quickly. Some of the older homes in the higher price ranges are still taking a bit longer to sell.
Overall we are in a strong sellers market. As long as the home is in good condition, shows nice and is priced correctly, these homes will sell fairly quick now. The condo market has been slower over the past couple of month but with the strong overall market even condo sales have picked up.
If you are looking to purchase a home in and around the Woodbridge VA area no or in the spring market be ready. Here is how you can prepare to making sure you get your dream home and you are not losing out to any of the other buyers that are currently out there looking for homes.
Hire a Real Estate Agent that gets the job done. I have helped many buyers win in multiple offer situations.
Be sure your finances are ready and you are pre-approved with a local lender that can get the job done quickly.
Don't wait. If you like a home chances are someone else will like it too. The sooner you connect with your Woodbridge VA Realtor® to submit an offer
Do your due diligence. Just because a home looks good on the outside you also want to make sure you get a home inspection.
If you are looking to purchase your first home or one of many, contact me today. It would be my pleasure to assist you with all your Real Estate needs. You can call me at 571-446-0002. I can help you with all your Real Estate needs. Buying or selling Real Estate in and around Woodbridge VA, you should work wit one of the best. I am an award winning Woodbrige VA Real Estate Agent that knows the market and knows how to get the job done.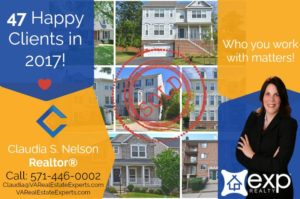 CALL Claudia S. Nelson
Woodbridge VA Real Estate Agent
eXp Realty
571-446-0002