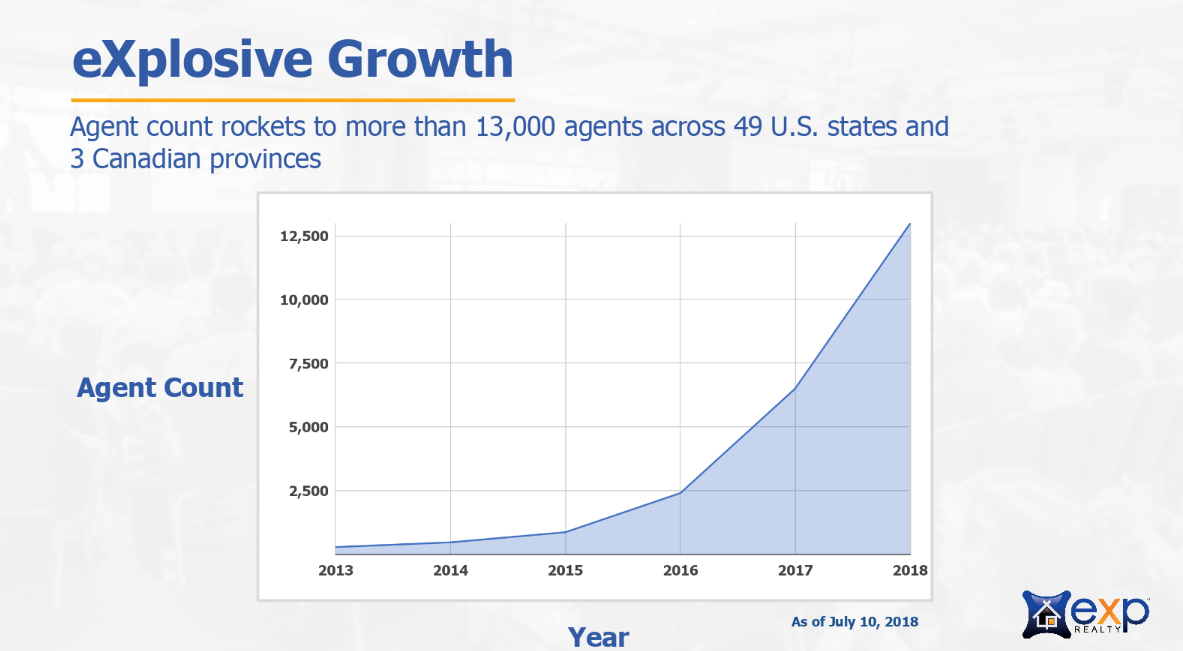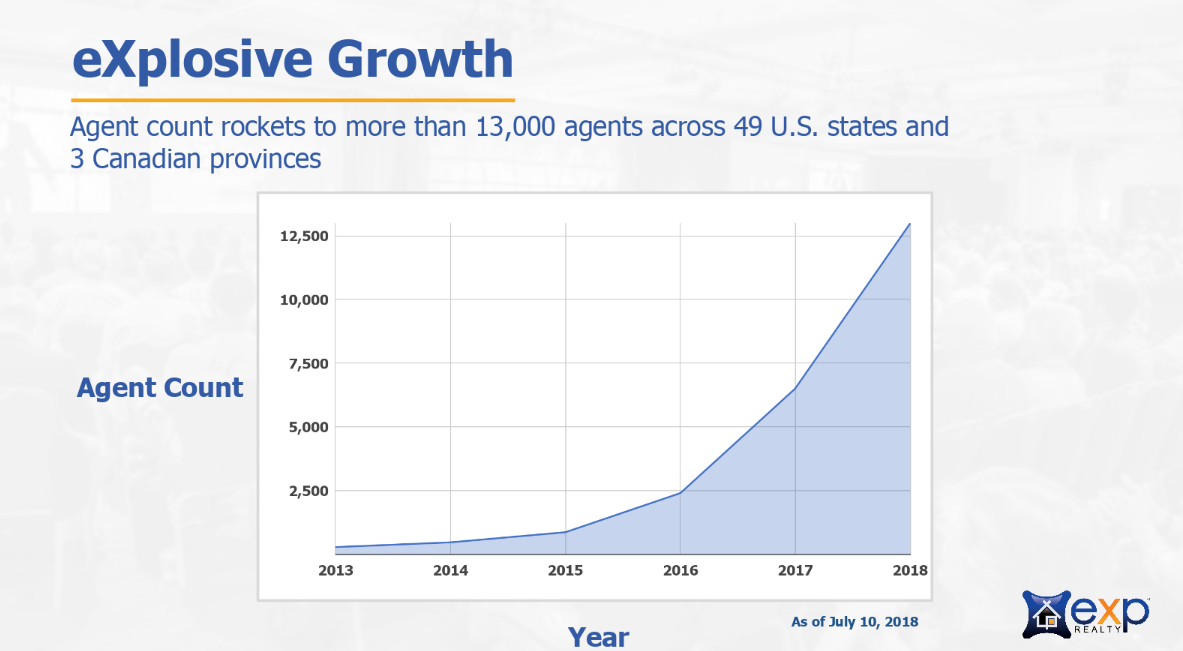 eXp Realty has been around for a while. I started hearing about eXp Realty when I saw many of my high producing agent friends moved to eXp Realty. I was happy at my previous company at that point and never really looked into eXp Realty more, manly because I was comfortable and happy with where I was and what I was doing. I wasn't looking for anything else and never bothered looking into eXp Realty until one of my Realtor® friends Brenda Stone announced on Facebook that she was moving to eXp Realty.
I remember the time so well when started looking into eXp Realty. It was a day my boyfriend was off work and we tried to sleep in. I saw Brenda's post and messaged her immediately. She in turn called me back and gave me the scoop about eXp. She also sent me a link to a webinar that explained eXp Realty in detail. I so well remember watching the webinar with my boyfriend and we both agreed this was the best move. I was sold on eXp immediately and so was Bryant. He is not a Real Estate Agent but he also saw the opportunities eXp Really will be offering me.
The webinar I watched was long at points will all the fluff and everything. I was just interested in the bottom line. This is why I recorded the bottom line about eXp in the below quick overview. If you are anything like me you are probably interested to know what does eXp better than any other Real Estate company out there. For me it was the equity opportunities. Let me have you look at the video:
Ready to make the switch to Agent Ownership at eXp Realty?
Sign up here and contact me to help you get everything you need to get started with Agent ownership at eXp Realty.

Powerful Equity Opportunities with eXp Realty
Equity Awards:
Earn shares on your first transaction
Earn shares when you fully cap
Earn shares when an agent you sponsor closes their first transaction
In the above quick exp overview presentation I talk a lot about the powerful agent ownership and really one of the main reasons why I decided to join eXp Realty. In the above presentation I spent a lot of time on this particular slide. The Agent Ownership, really was one of the main reason why I joined eXp Realty. Being able to become an owner without having to put up a large amount of money for a franchise or to simply buy into a franchise. At eXp I became an owner immediately after closing my first transaction.
ICON Agent Program
Up to 16,000 in stock upon the achievement of certain production and cultural goals within your anniversary year
I love the ICON Agent Program. At eXp I have the ability to get my cap back in Stocks. After capping an agent can work towards generating my entire cap back in stocks. Being able to earn back your Cap sunds so much better than anything else out there right now. At eXp I saw the opportunity to becoming an owner and generating an additional income stream in my business. This will help me now and in the future. Basically if an agent is a high producing agent they can get their Cap back in stocks helping the agents accumulating wealth. As a Real Estate Agent I preach to my clients about wealth building all the time. By becoming a home owner my clients can accumulate wealth, same is true for me as a Real Estate Agent. By having ownership in a company I can accumulate wealth.
Agent Equity Program
Enroll to b paid 5 % of every transaction commission with stock at a 20 % discount
At eXp Realty I have the option to purchase stocks with every transaction I am doing at a discount. Wow. Can you imagine having an opportunity like this and passing it up! When I initially saw the eXp presentation the Agent ownership is really what convinced me to joining eXp Realty immediately. I even mention in the above presentation that I am mad a myself for not making the move quicker.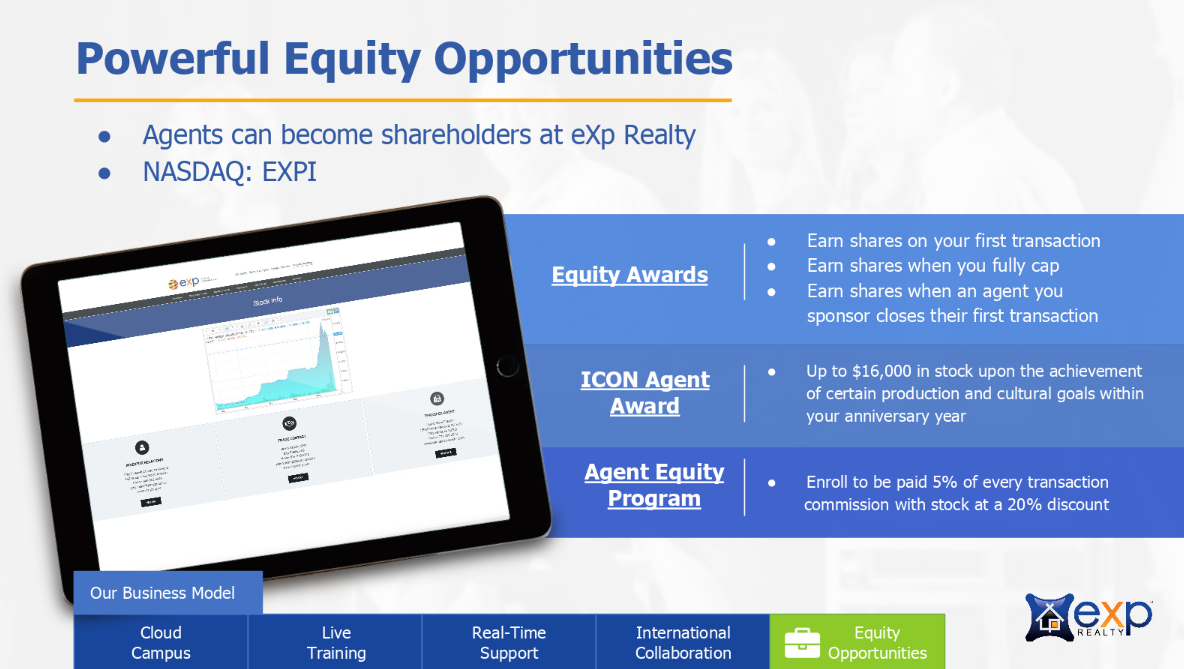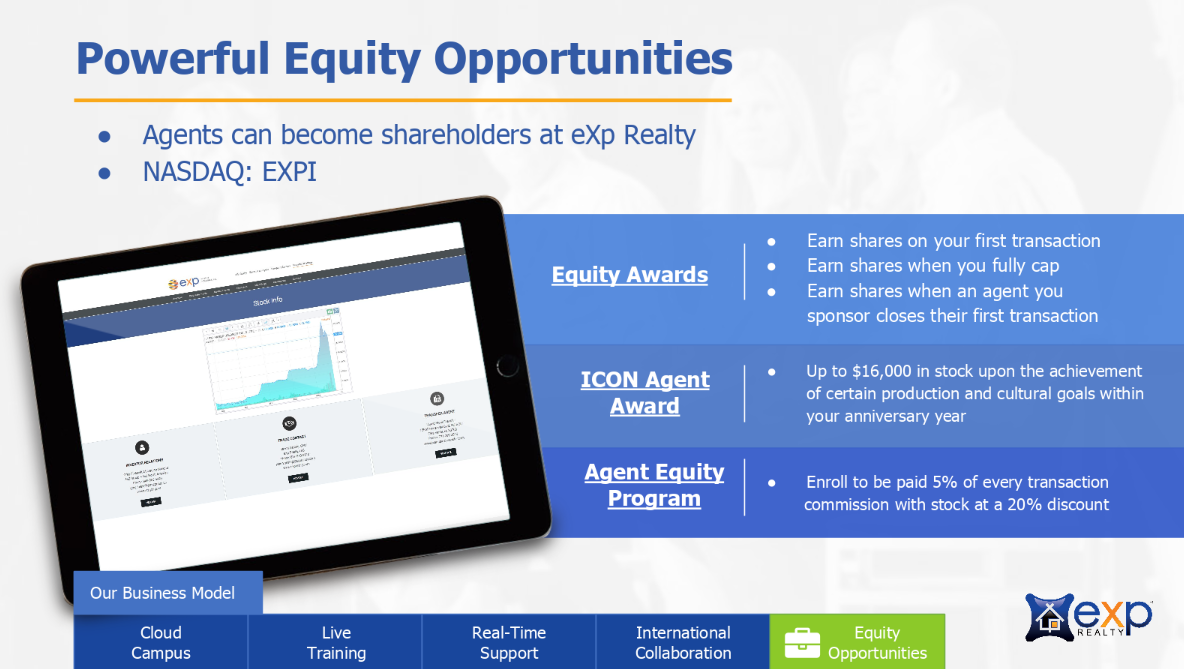 Interested?

Powerful Revenue Share at eXp Realty 
This concept was familiar to me from my previous company, but this really was not the reason why I decided to join, but I do have to admit having revenue share is a powerful byproduct and made the company even more interesting to me. Now I am not in the business of recruiting other agents, first and foremost I am a Real Estate and I sell homes, but I am more than happy to telling everyone about this great opportunity. I am truly blessed having so many great agents with me at eXp Realty and I love helping everyone becoming a successful agent and to help them unlock their full potential.
I would love to have you in our group and help you become a successful agent owner at eXp Realty.
Single Agent Revenue Share
Up to 3.5 gross commission
Agents at eXp Realty can receive residual income from the productive agents they sponsor into the company. Earn up to $2,800 annually for each agent you personally introduce to eXp.
Revenue share is paid by company dollars and doesn't reduce agent commission.
Cascading Revenue Share
In addition, agents earn residual income from productive agents sponsored into their overall group.
As an example: If you personally sponsor 5 productive agents to eXp and they sponsor their own productive agents, then you can earn up to $3,200 annually for each of those other agents. This represents up to 4 % gross commission.
There is no limit to the amount an agent can earn.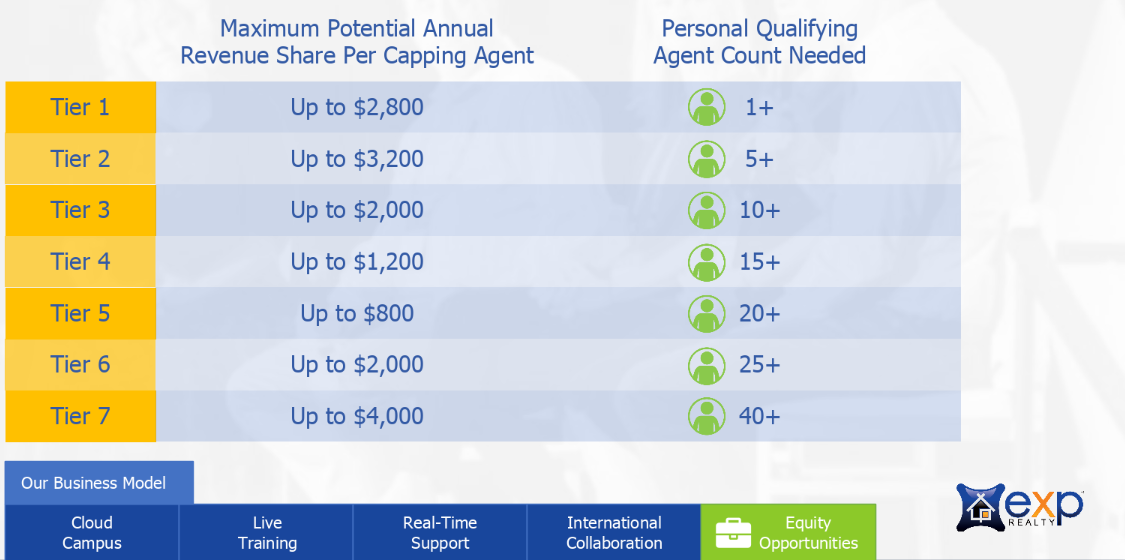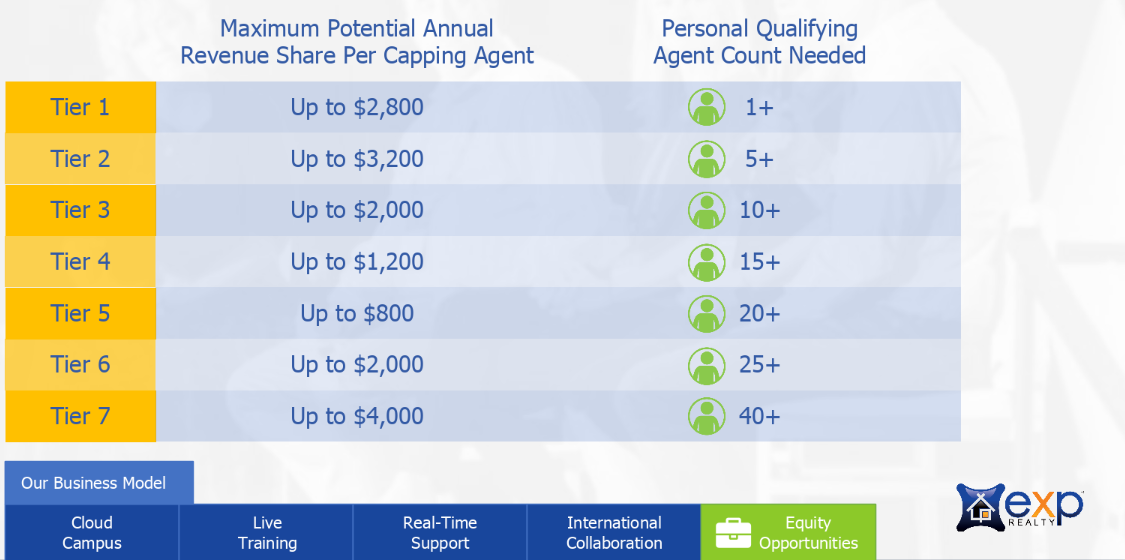 Ready to make the switch to Agent Ownership at eXp Realty?
Sign up here and contact me to help you get everything you need to get started with Agent ownership at eXp Realty.

eXp Realty Commission, Cap and Fees
Every agent joining eXp Realty is automatically started at an 80/20 commission split, until you reach the $16,000 cap. This wasn't really a factor for me when I decided to making the move to eXp Realty, but the total cap is lower then what I had with my previous broker. The main factor again was that I have the equity opportunity. Also, I have the opportunity to getting my full cap back in stocks. This is all helping me building wealth and trying to retire early.
Like most Real Estate Agents I own investment properties, but having an equity opportunity and accumulating wealth in addition to investment properties, was too good to pass up. I preach wealth building to my clients all the time so how can I pass up on this opportunity.
In the below slide you can see the Commission, Cap and all the Fees as an overview.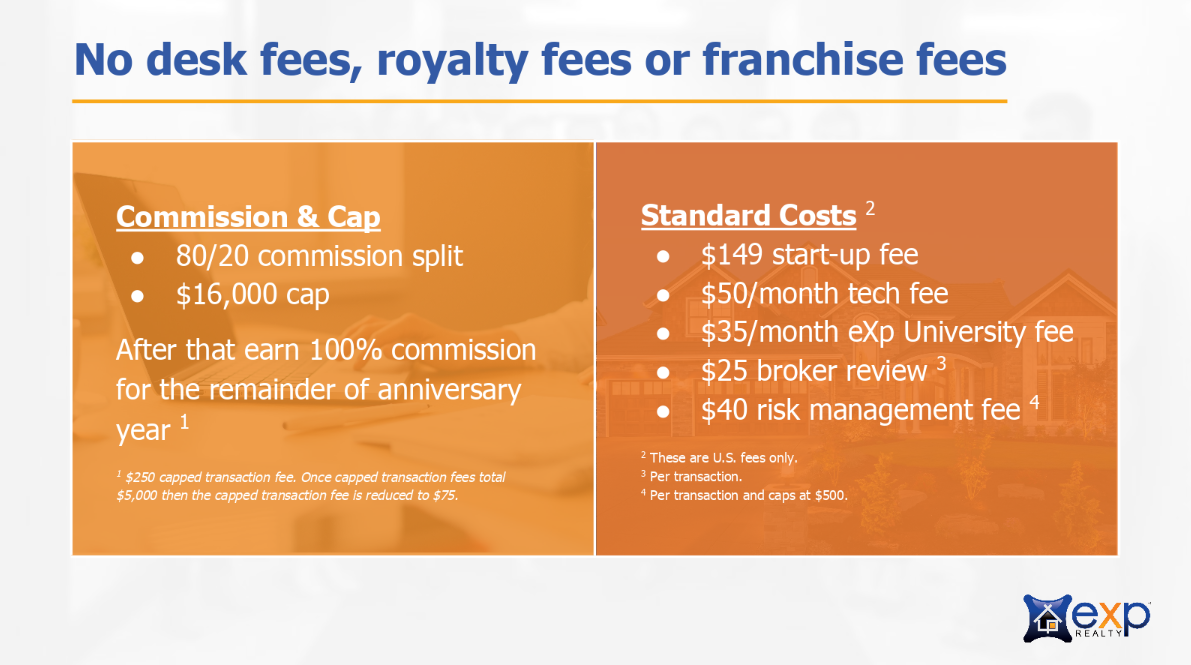 Ready to make the switch to Agent Ownership at eXp Realty?
Sign up here and contact me to help you get everything you need to get started with Agent ownership at eXp Realty.

eXp is the future of Real Estate
Don't miss the out on the future of Real Estate. The sooner you join the quicker you can take advantage and get equity awards in the company. Don't let this opportunity pass you by. Just like the below quote I missed out on a lot of good stocks and I am not about to miss out on this. I am part of the company and I am one of the agents that owns equity in the company.
Quote from a Mega Agent who recently joined eXp Realty
The other day I listened to a video Clayton Gits did with Chad Madlom, a 100 Million Dollar Independent Broker  in Denver Colorado on why he and his firm joined eXp Realty. His quote is "I missed the Amazon – the opportunity to get into Amazon, I missed Yahoo, I missed Google, I missed Uber, I missed Starbucks. It blows my mind, man…I'm not going to miss this one. And the cool thing is: it's real estate!" I could not agree more with his quote. I am glad I am part of this forward thinking company and new trend in the Real Estate Industry.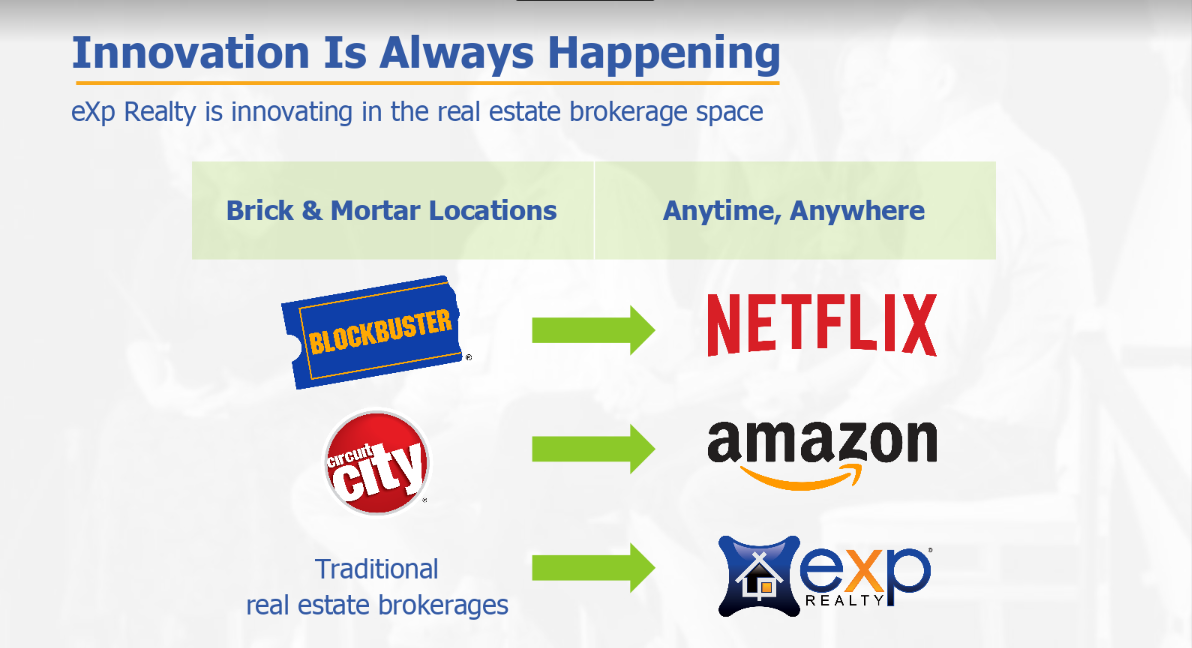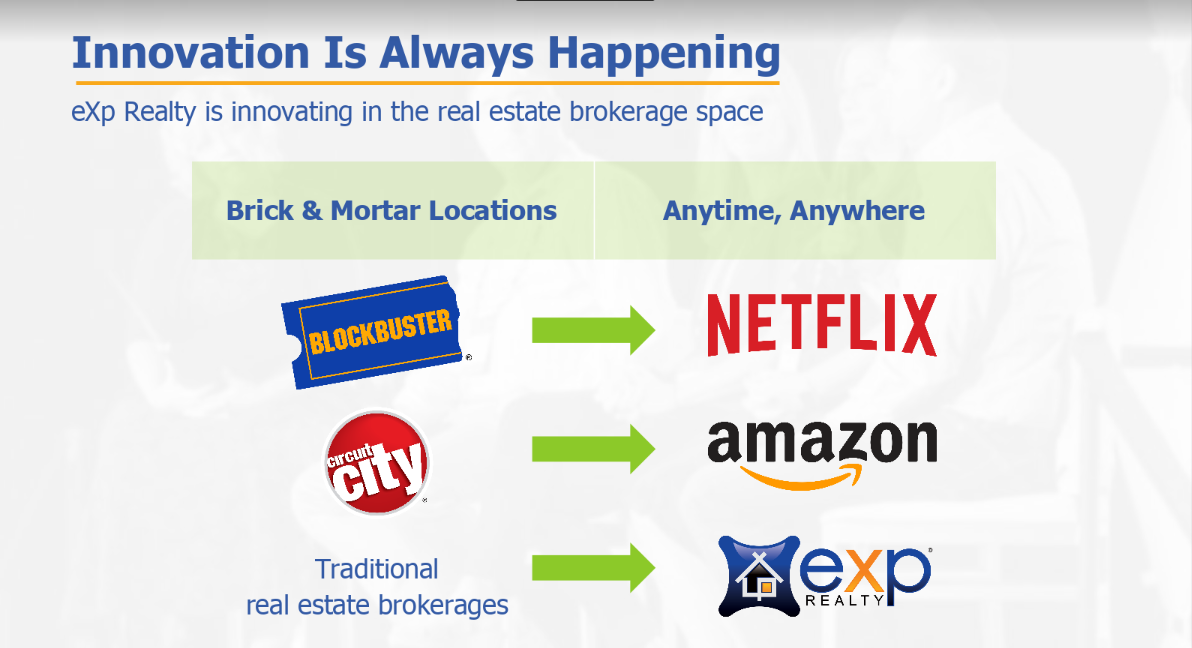 Ready to make the switch to Agent Ownership at eXp Realty?
Sign up here and contact me to help you get everything you need to get started with Agent ownership at eXp Realty.