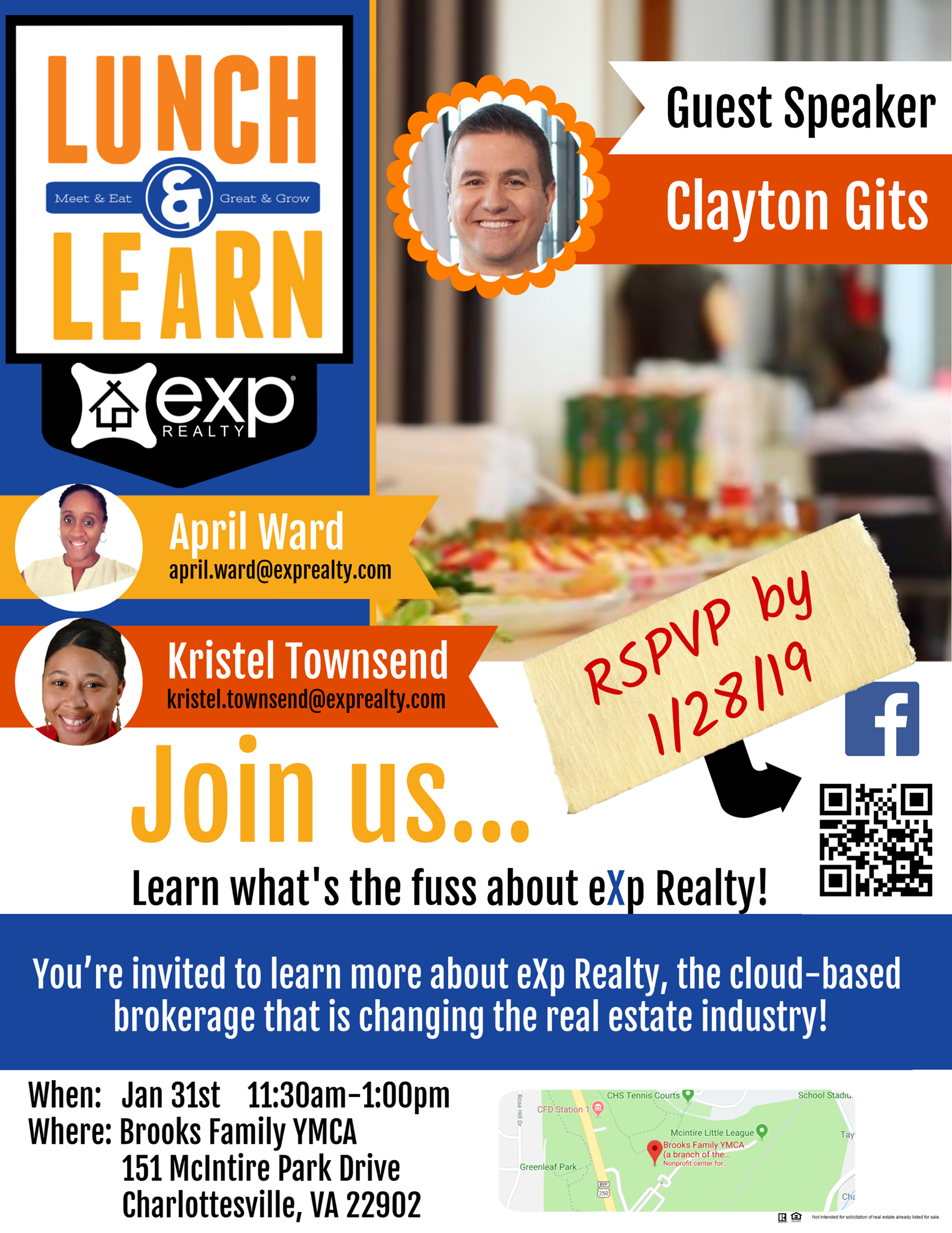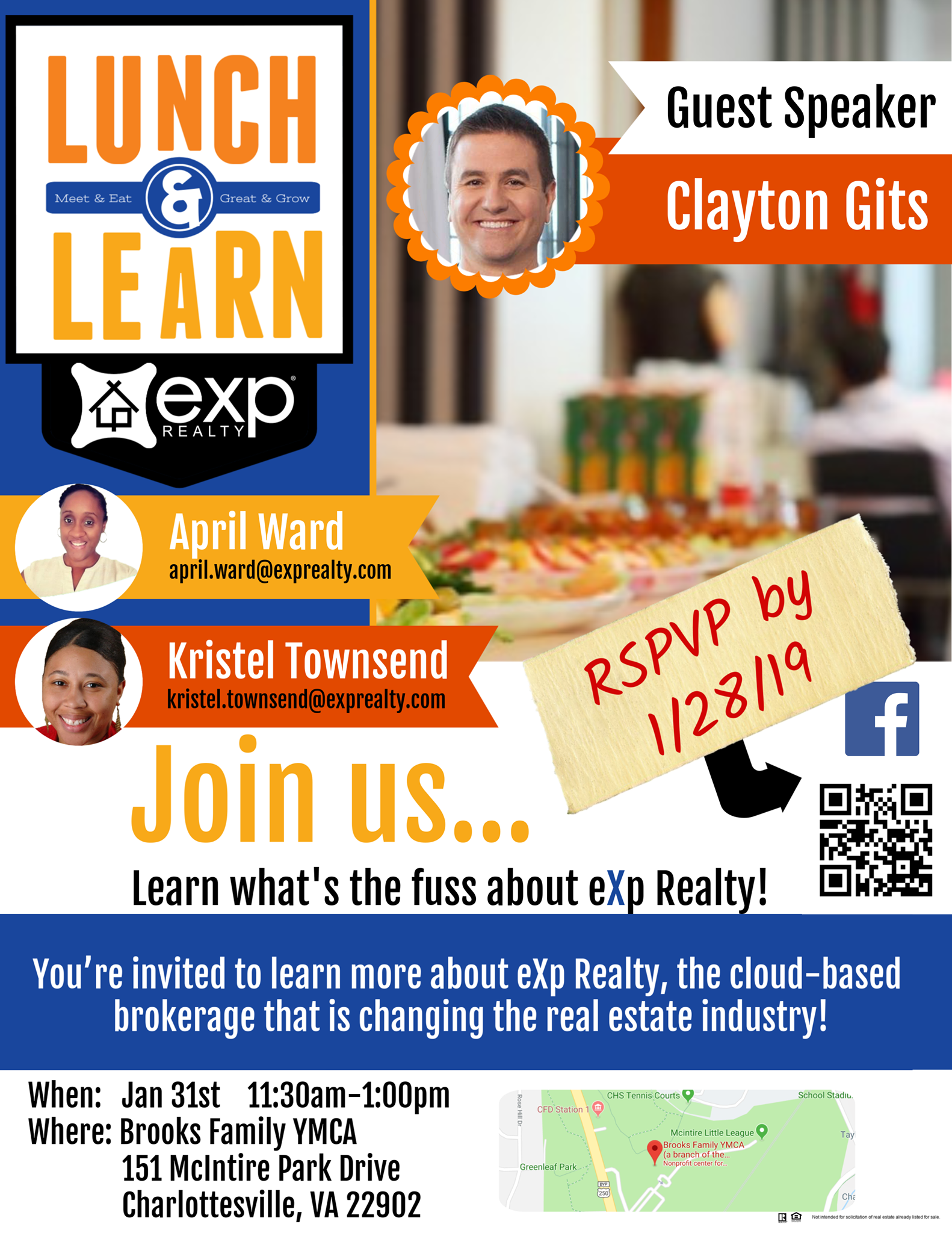 Click here to  reserve your space for the eXp Realty Charlottesville VA Lunch and Learn.
Contact your eXp Realty Charlottesville Real Estate Agents for additional information:
Kristel Townsend, eXp Realty Charlottesville
434-249-9647
Kristel.townsend@exprealty.com
April Ward, eXp Realty Charlottesville
434-906-8865
April.Ward@exprealty.com
Lunch and learn for real estate agents and brokers thinking about making a change or just to find out more information about eXp Realty.
Join us January 31st at  Brooks Family YMCA from 11:30 am to 1:00 pm
Brooks Family YMCA
151 McIntire Park Drive
Charlottesville VA 22902
eXp offers many benefits like cutting edge technology and support to grow your business. eXp also offers a unique and profitable 'exit strategy' for retirement and freedom to pursue other passions.
Clayton Gits, the owner of one of the top teams in Richmond, VA, will be presenting 'eXp Realty Explained' to learn about this dynamic "Agent-Owened" brokerage that offers exclusive technology including Kunversion, SkySlope, support and community in an exclusive cloud based platform. In addition, you'll learn about eXp's low cap, Icon agent program, stock options for agents and revenue share. The future of Real Estate. Imagine joining the fastest growing Real Estate Company at the ground level. That would be pretty amazing right!?
If you're curious or simply looking for a change a new start, create a legacy and not have to work forever, join us at this lunch and learn in Charlottesville. We would love to talk to you and share our stories with you. New year, new beginnings.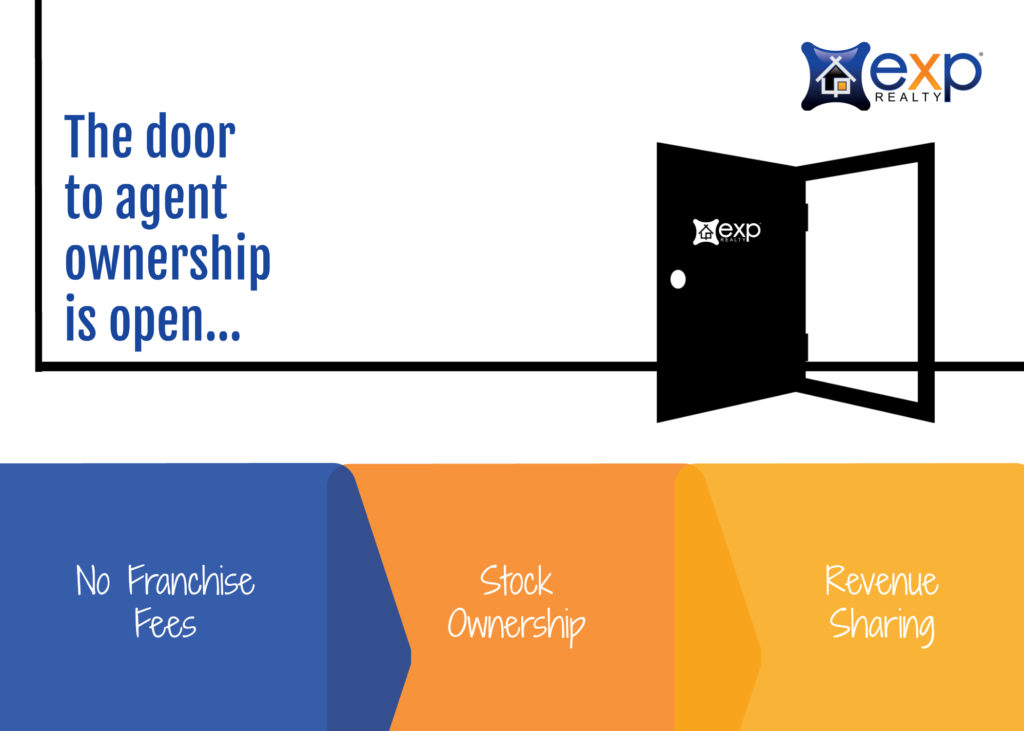 eXp Realty Charlottesville
My story and why I joined eXp Realty 

Find out now why I joined eXp Realty Woodbridge VA
I have been at Keller Williams Realty in Woodbridge VA for quite some time and I had no intention of ever leaving. I was really happy there and they provide a good home. Let me be perfectly honest here, eXp isn't for everyone, but if you are an agent that can do without the brick and mortar business model eXp Realty is for you and you should contact me today to chat. If you are looking to speak with someone from eXp Realty Woodbridge VA call me at 571-446-0002.
eXp is the fastest growing Real Estate Company
When I saw many of the Mega agents announce that they are moving to eXp, I just thought that's interesting, but never really investigated it. When I saw one of my agent friends Brenda Stone and her team made the switch at the beginning of November. I immediately reached out to her and asked her to tell me a bit more about the company. She did and also shared a video link with me. After watching the video I bought in 100 %. The thing that did it for me was the fact that you are automatically become an owner in the company. You are getting shares with your first transaction and you also have the option to purchasing shares at a discounted price with every transaction. Agent owned Cloud Brokerage, this opportunity was just too good to pass up.
Quote from a Mega Agent who recently joined eXp Realty
The other day I listened to a video Clayton Gits did with Chad Madlom, a 100 Million Dollar Independent Broker  in Denver Colorado on why he and his firm joined eXp Realty. His quote is "I missed the Amazon – the opportunity to get into Amazon, I missed Yahoo, I missed Google, I missed Uber, I missed Starbucks. It blows my mind, man…I'm not going to miss this one. And the cool thing is: it's real estate!" I could not agree more with his quote. I am glad I am part of this forward thinking company and new trend in the Real Estate Industry.
Agent Ownership eXp at Realty
Equity Awards:
In the above quick exp overview presentation I talk a lot about the powerful agent ownership and really one of the main reasons why I decided to join eXp Realty. In the above presentation I spent a lot of time on this particular slide. The Agent Ownership, really was one of the main reason why I joined eXp Realty. Being able to become an owner without having to put up a large amount of money for a franchise or to simply buy into a franchise. At eXp I became an owner immediately after closing my first transaction.
ICON Agent Program
I love the ICON Agent Program. At eXp I have the ability to get my cap back in Stocks. After capping an agent can work towards generating my entire cap back in stocks. Being able to earn back your Cap sounds so much better than anything else out there right now. At eXp I saw the opportunity to becoming an owner and generating an additional income stream in my business. This will help me now and in the future. Basically if an agent is a high producing agent they can get their Cap back in stocks helping the agents accumulating wealth. As a Real Estate Agent I preach to my clients about wealth building all the time. By becoming a home owner my clients can accumulate wealth, same is true for me as a Real Estate Agent. By having ownership in a company I can accumulate wealth.
Agent Equity Program
At eXp Realty I have the option to purchase stocks with every transaction I am doing at a discount. Wow. Can you imagine having an opportunity like this and passing it up! When I initially saw the eXp presentation the Agent ownership is really what convinced me to joining eXp Realty immediately. I am just mad at myself I did not join sooner.
Revenue Share
I have to admit I am not a recruiter. First and foremost I am a Real Estate Agent. The revenue share part wasn't the driving force for me to join eXp Realty. I have to admit however, getting revenue checks is nice. It gives me great pleasure to sharing this agent focused Real Estate model with all my family and friends. If anyone has questions I will be more than happy to explain how the single agent revenue share and how to unlock the cascading revenue share model works.
The future of Real Estate
With so many millennial buyers and overall buyers that want to do business electronically this was a no brainer for me. They are offering state of the art technology that I can use to help serve all my clients better. I couldn't wait I had to  sign up asap and I am very happy at eXp Realty, never looked back
If you are interested in joining call me today at 571-446-0002 to discuss.
Interested?
Sign up here and contact me to help you get everything you need to get started.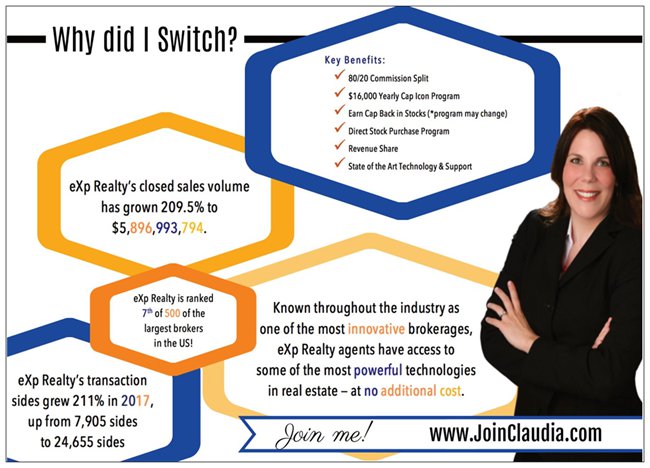 Claudia S. Nelson
eXp Realty Woodbridge VA
571-446-0002
eXp Realty Charlottesville