All Things Real Estate
Are you looking for all things Real Estate? If so you have come to the right place. My name is Claudia S. Nelson and I am a Woodbridge VA Real Estate Agent, passionate about helping my clients fulfill their Real Estate Dreams. I love helping and being part of your Real Estate journey. Throughout this journey I have met so many great people and I truly appreciate every single one of these experiences and I am so grateful to all my clients and friends.
So back to the original post all things Real Estate. If you are looking for anything Real Estate related it is my pleasure to assist. You can call me for a quick answer or simply browse through my blog or any of my social media platforms.

👉 Claudia's Blog   👉 Facebook   👉 Instagram  👉 Linkedin  👉 YouTube
If you are interested in hearing what some of my previous clients are saying you can check out all my reviews or simply look at the below video with some recent testimonials.

Whatever Real Estate related question you have I will do my best to answer you quickly. In the event I don't have an answer I will make sure I track down the resources to provide you with the answer to your question. If you are looking to buyer or sell a home in or around the Woodbridge VA and general Northern Virginia area it would be my true pleasure to meet you to discuss all the details. If you are simply interested in finding out your homes value you can check here for an automated valuation.


Keep in mind automation is only as good as the data behind it. So these value reports are not always 100 percent accurate. For the best value report you can reach out to me directly for a more exact report. Doing an in-person or virtual walk-through will give me all the details needed to provide you with the additional information the automated report does not have.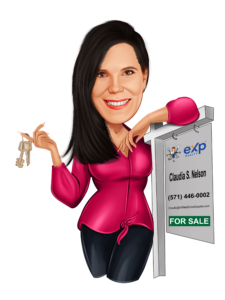 Claudia S. Nelson
eXp Realty
Call or Text 📞 (571)446-0002
Claudia's Tips for Home Sellers  👉 click here
Track your Homes Value 👉 click here 
Find out your homes value 👉 click here to get an instant value
Pro tips for home buyers 👉 click here to learn more
Follow me on Social Media
👉 Facebook 
👉 Instagram
👉 Linkedin
👉 YouTube