Get to know me and my story of building wealth by investing in Real Estate.
Built wealth through Real Estate Investments. Growing up I saw home ownership first hand. My parents purchased their home just after I was born. They still live in the same home to date. Growing up in a country that has very high percentage of renters I was one of the lucky ones to grow up in a home my parents still own today. Well I just looked up homeownership in Switzerland it it is around 41 % compared to a much much higher percentage in the US at 65 %.
When I first moved to the US I had no intention of purchasing a home, but looking back at it now I wish I purchased a condo when I initially moved. Oh well.
Being a homeowner and landlord now I do fully believe in the American dream of Homeownership. Its truly the best way of building wealth. I am so glad I found the Real Estate Dream and I am so glad I became a Real Estate agent being able to help so many of you achieving the same goal and building wealth.
Most millionaire have one thing in common – they all own Real Estate. Some of course at much higher levels then others.
If you are just starting out or you have been renting for a long time its never to late to start with your wealth building. Call me today.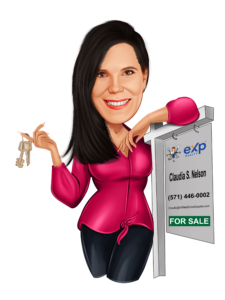 Claudia S. Nelson
eXp Realty
Call or Text 📞 (571)446-0002
Claudia's Tips for Home Sellers  👉 click here
Track your Homes Value 👉 click here 
Find out your homes value 👉 click here to get an instant value
Pro tips for home buyers 👉 click here to learn more
Follow me on Social Media
👉 Facebook 
👉 Instagram
👉 Linkedin
👉 YouTube