My journey of becoming a Woodbridge VA Home Owner
The video above is a long one as I keep rambling around but the just of it is I am very happy my ex-husband pushed me into home ownership and suggested Real Estate licensing Class for me. So let me start from the beginning.
When I first moved to the USA in 2003 I was lucky enough to finding a cute, conveniently located 1 bedroom apartment in DC, with the best ever landlord a former co-worker and friend. The condo was conveniently located close to metro and it was so much fun living in the city, being a young professional.
When I met my then boyfriend, now ex-husband he was always looking into getting back into owning properties and getting back into Real Estate. When he was ready to purchase a home he decided on Woodbridge VA. I was dead set against moving out of the city and leaving my cushy DC Condo for a place in Woodbridge. Well he purchased the home and I was fighting it for a while, doing "long distance" dating until I ultimately gave up my rental and moved to Woodbridge VA.
Best decision ever. Once we owned a place in Woodbridge VA we kept on looking at upgrading, that was right around the time the market crashed. I kept on trying to work with different Real Estate Agents but no of them really got my vision. So again my then husband, who worked for a new home builder, recommended I should get my Real Estate license. Long story short, I took the class, passed the Real Estate exam and became a dual career agent.
One of the first homes I sold was a  home for us. At that point we purchased a single family home. Looking back the mortgage payment for my single family house is about the same price that one bedroom condo in DC was. By now actually the one bedroom condo in DC is renting for way more then my mortgage payment. Looking back I should have bought more homes around that time but oh well. I managed to purchase the single family home and some investment properties.
Love that I was able to purchase my first home and get into Real Estate. Love what I do. Love helping my first time home buyers.
If you are looking to purchase your first home trust me I understand the emotional roller coaster and I understand couples are not always on the same page.

Find out more about the Home Buying process right here 👉👉 Home Buyers Guide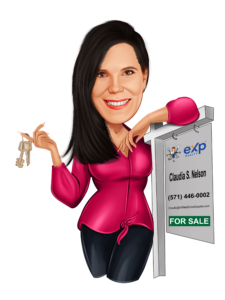 Claudia S. Nelson
eXp Realty
Call or Text 📞 (571)446-0002
Claudia's Tips for Home Sellers  👉 click here
Track your Homes Value 👉 click here 
Find out your homes value 👉 click here to get an instant value
Pro tips for home buyers 👉 click here to learn more
Follow me on Social Media
👉 Facebook 
👉 Instagram
👉 Linkedin
👉 YouTube