My List of Best Restaurants in Woodbridge VA 
My Favorite Restaurants in Woodbridge VA 
Obviously this list is not complete and its always changing. There are many more other fabulous restaurants in Woodbridge VA.
My all time favorite is:
This is truly a great place. The owner is from Morocco and the cuisine they offer is French inspired. The atmosphere and the food is exceptional. They offer a 5 start restaurant in Woodbridge. Each time I go there I simply love their food. They also have special menus for holidays and other special occasions. Its not cheap, but if you compare this to what you pay in DC for a good meal it is very comparable and this one is right in our backyard. Simply great. If you haven't tried Bistro L'Hermitage yet you should check it out. Technically this restaurant is in Occoquan, but honestly Occoquan is simply an historic, cute and quaint extension of Woodbridge VA with lots of shopping and restaurants. 
This is another of my favorites, easy to miss as its hidden, just like the name hints at, its a secrete garden cafe at the end of Occoquan. If you don't know its there its easily missed. It is tucked in between two homes, in the summer their outdoor seating is simply spectacular and romantic. Their food is delicious.
Since these two places are in Occoquan there are many more great places in Occoquan. If you are looking for something nice to do on a weekend you should go for a stroll through this historic old town and check out some of the great stores. There is a wonderful chocolate store on main street in Occoquan. Being from Switzerland I am very picky about good chocolate and have to admit this chocolate store is pretty amazing. There is a wine bar on main street as well.
I love to go to Stonebridge at Potomac Town Center. There are so many great restaurants, something for everyone. Let me get all the Alamo Draft House, Aroma Latin Fusion, Brew Republic Bierwerks, Brix Wood Fired Pizza, BurgerFi, Cava Table, Dok Khao Eatery, Duck Donuts, Firebirds, Nando's, Not your Average Joes', Potbelly, Red Mango, Starbucks, Sushi Jin, Uncle Julios, Wegmans. You can pick and choose. There is something for everyone right there at Stonebridge.
Obviously you have the food court at the mall. One of my absolute favorite at the food court is Pokerea. If you like Poke bowls this is a great and affordable place. Now if you don't feel like going into the mall and want to eat at one of the restaurants they do have great options. There is the Cheesecake Factory and Bahama Breeze. There is also a new place about to open its a Seafood place.
Give me your Favorites:
Please let me know your favorites and I will be happy to do another video and blog with your favorites added as well. There are so many great places in and around Woodbridge I have not even started to mention all the great restaurants in Old Town Manassas or the new Restaurants at the Two Silos off 234. Like I said so many great places. We live in a wonderful area and we are so close to Washington DC. People spend lots of money to travel to our area and enjoying out nations capital and this is simply in our backyard. I love where I live and I hope so do you.  .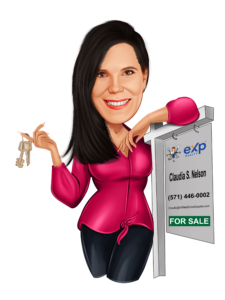 Claudia S. Nelson
eXp Realty
Call or Text 📞 (571)446-0002
Claudia's Tips for Home Sellers  👉 click here
Track your Homes Value 👉click here
Find out your homes value 👉 click here to get an instant value
Pro tips for home buyers 👉 click here to learn more
Follow me on Social Media
👉 Facebook 
👉 Instagram
👉 Linkedin
👉 YouTube 
eXp Realty  ~ Woodbridge, VA ~ 703-665-3362
Licensed Salesperson in the Commonwealth of Virginia