Dale City
Real Estate Market Update 



The Dale City Real Estate Market has cooled down and we are no longer seeing 10 to 20 offers on one home. Homes will stay on the market a bit longer, but prices have only dropped a little bit. We are starting to see more sellers having to adjust prices, sellers having to consider closing cost assistance and Home Inspections are back. Overall we are still not seeing to many homes for sale and the inventory of homes is still low, but there are also much less buyers out looking at homes due to much higher interest rates.
You have probably heard on the news interest rates are significantly higher compared to were the market started in early 2022. The increase in interest rates is making homeowners ship less affordable for may home buyers especially first time home buyers. There are still buyers that are either downsizing or moving to a larger home that have money and also lots of buyers moving from other parts of the country to our area. This is why we are still seeing lots of homes go under contract and being sold.
Here is the most recent Dale City Real Estate Market updated around the R section also called my neighborhood.
The below graphic is from Bright MLS and homes recently sold in our Dale City Neighborhood:

Fellow Dale City Residents and Dale City Home Owners
Can you believe it property values in Dale City are up significantly continue reading to get a Dale City Real Estate Market Update. The Real Estate market in 2022 has appreciated quite a bit and all our Home Values have gone up giving everyone a lot more home equity. Although the recent interest rate increase has slowed down the market prices are still strong. If you are interested in finding out what your home is worth or you would like to track your Dale City Home Values below are two links for you:



Year over year prices in the Dale City area have gone up but currently we are seeing homes that are overprices stay on the market much longer and sellers that are not realistic of what's going on in the market have to adjust their expectations and bring the homes closer to recent sales prices. 

Why Now is a Great Time to consider Selling your Home
Throughout 2021 and early 2022 we have seen quite a bit of supply and demand issues everywhere but in particular in the Housing Market we have seen a low inventory of homes for sale. With the increase in interest normalized a bit but some price ranges are still lacking inventory of homes for sale. New home builders are selling at a much slower pace right now and also have slowed down building.  
Increase in Home Equity
With the increase in Home Values all Dale City Home Owners should have much more equity in their homes. We are currently seeing more owners that are falling behind on their mortgage payments but because of the increase of home equity these home owners do not have to consider short sale of foreclosures as most owners have enough equity in their homes to sell outright at a profit. 
Less Buyers but still lots of motivated Buyers 
There are still lots of motivated buyers that are moving to the greater Washington DC area and in particular the Woodbridge, Dale City area is still in high demand with Military personnel moving to Quantico, Fort Belvoir or even the Pentagon. 
If you are considering selling your Dale City property, it would be my pleasure to provide you with a current market analysis of your property value, help you get your property ready for market and guide you throughout the entire sales process. Or you might just be interested in finding out what your home is currently worth. Whether you are ready to sell now or in the near or distant future or never I am here for my neighbors for all your Real Estate questions.
I have assisted may Dale City Home Owners with the Sale of their Dale City Home and since I live and work in Dale City I have a vested interest in our Home Values. My proven track record speaks for itself or you can check out what some of my clients are saying right here: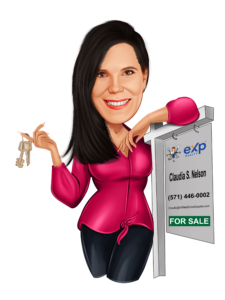 Claudia S. Nelson
eXp Realty
Call or Text 📞 (571)446-0002
Claudia's Tips for Home Sellers  👉 click here
Track your Homes Value 👉click here
Find out your homes value 👉 click here to get an instant value
Pro tips for home buyers 👉 click here to learn more
Follow me on Social Media
👉 Facebook 
👉 Instagram
👉 Linkedin
👉 YouTube 
eXp Realty  ~ Woodbridge, VA ~ 703-665-3362
Licensed Salesperson in the Commonwealth of Virginia