Christmas Markets in
and around Northern Virginia 
Fair warning if you are used to any of the German or traditional European Christkindle Markets or Christmas Markets you will have to book a flight to Germany, Switzerland or Austria that's pretty much where the best Christmas Markets will be. But in the mean time if you are in or around Northern Virginia here are some good options:
Reston German Christmas Market:
December 8.2022, From 4 pm to 9 pm
This event is held at the location of the German Military in Reston at The Campus at Sunrise, 11150 Sunrise Valley Dr, Reston VA 20191. After 2 years of not having this event we are finally getting the German Christmas Market back. Its a small event with traditional German Bratwurst and Gluehwein. Having said that the venue is small and it tends to get very crowed. There is an admission fee of $10 for adults and $5 for kids. The admission is Cash only. Some of the vendors are The Swiss Bakery, Little Austria, Binkert's Meat and more. 
Herndon Winter Market
December 10.2022 From 12 pm to 7 pm 
For all the details check out the website for the Herndon winter market by clicking here. There are a lot of vendors at this market including some of my German friends that have stands there. Coburger Bistro and Little Austria, The Baekehause, Little Germany and many many more. Check here for the full vendor list. 
Old Town Alexandria Christmas Market
December 10.2022 From 11 am to 4 pm
This is a great event in historic old town Alexandria. You can walk through and just enjoy everything Old Town Alexandria has to offer and also enjoy all the vendor at this beautiful Christmas Market. For all the details check out the flyer on their website. 
Swissmas & Christkindl Market at The Swiss Bakery in Springfield 
December 11.2022, From 11 am to 4 pm
I have to admit I am very partial I love The Swiss Bakery and everything they are selling. So good. If you have never been you are totally missing out. This is a great event and they are offering some delicious food and drinks as always. Check out the Facebook event and their Holiday website for more details. 
Downtown Washington DC Holiday Market
Daily 12 pm to 8 pm through December 23rd 2022
I have been to this Christmas market pretty much every year and its nice to have a bit of home close by. Although like with every market none of them are the traditional European Christkindl Markets but its nice strolling around in downtown DC and coming across this Holiday Market with all the cute offerings and delicious food. 
Christmas Village in Baltimore – The authentic German Christmas Market in Baltimore!
Daily 11 am to 7 pm through December 24th
My husband and I are planning on going to this Christmas Market on our next free weekend, whenever that will be before Christmas. I have been there previously and was a bit underwhelmed, but was told its since gotten way better and way more authentic with many more traditional European touches. Check out their website I see a Raclette Stube which will make this an awesome Christmas market and not to forget the Gluehwin Pyramid.
Let me know which Christmas markets in and around the Northern Virginia area you are planning to visit or have already visited. I will start today with meeting a friend at the German Military Christmas Market and then probably the Swiss Bakery on Sunday and Baltimore whenever my husband and I have some free time before Christmas. Happy Holiday to all of you and enjoy the great food and delicious drinks.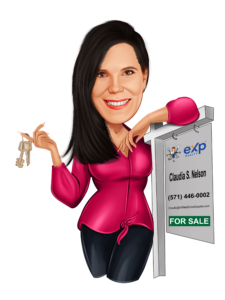 Claudia S. Nelson
eXp Realty
Call or Text 📞 (571)446-0002
Claudia's Tips for Home Sellers  👉 click here
Track your Homes Value 👉 click here 
Find out your homes value 👉 click here to get an instant value
Pro tips for home buyers 👉 click here to learn more
Follow me on Social Media
👉 Facebook 
👉 Instagram
👉 Linkedin
👉 YouTube
👉 TikTok