5 Things to do in Woodbridge VA 
Woodbridge, Virginia is a beautiful city located just 20 miles south of Washington D.C. There are plenty of things to do and see in Woodbridge, I happen to live and work in Woodbridge VA and I am very familiar with the area. Whether you are a local or a tourist, here are 5 things to do in Woodbridge Virginia that you won't want to miss.
1. Visit Occoquan Bay National Wildlife Refuge
If you're a nature lover, the Occoquan Bay National Wildlife Refuge is a must-visit spot in Woodbridge. The refuge boasts more than 6000 acres of pristine wetlands, forests, and meadows. Visitors can explore the area's hiking trails, fish in the many ponds, or just take in the stunning views of the Potomac River.
2. Walk through Leesylvania State Park
Leesylvania State Park is a beautiful park with plenty of hiking trails, picnic areas, and a marina. The park is located on the banks of the Potomac River and offers stunning views of the water. I love coming for a long walk with the dog here or just enjoying the sandy beach at Leesylvania State Park.
3. Take a trip to Rippon Lodge
Rippon Lodge is a historic site that dates back to the 18th century. The lodge was once owned by Virginia statesman, Richard Henry Lee. Today, visitors can tour the grounds and explore the lodge's beautifully preserved rooms and artifacts.
4. Go shopping at Potomac Mills
Potomac Mills is one of the largest outlet malls in the United States, with over 200 stores. Visitors can find everything from clothing and accessories to home goods and electronics. The mall is also home to a variety of restaurants and a movie theater, making it a great place to spend the day with family and friends.
5. Visit the National Museum of the Marine Corps
The National Museum of the Marine Corps is located just a short drive from Woodbridge and is a must-visit for history buffs. The museum showcases the history and accomplishments of the United States Marine Corps, with exhibits featuring artifacts, vehicles, and interactive displays.
I love living in Woodbridge Virginia and simply enjoy all that Woodbridge has to offer from its natural beauty, history, and entertainment. Whether you're interested in exploring the outdoors, shopping, or learning about history, there's something for everyone in Woodbridge. So, plan your trip today and discover all that this amazing city has to offer!
Find out more about the Home Buying process right here 👉👉 Home Buyers Guide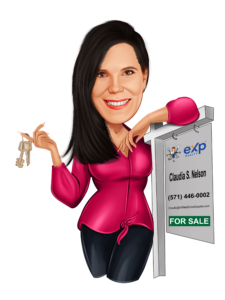 Claudia S. Nelson
eXp Realty
Call or Text 📞 (571)446-0002
Claudia's Tips for Home Sellers  👉 click here
Track your Homes Value 👉 click here 
Find out your homes value 👉 click here to get an instant value
Pro tips for home buyers 👉 click here to learn more
Follow me on Social Media
👉 Facebook 
👉 Instagram
👉 Linkedin
👉 YouTube