Things to do with your dog in or around Woodbridge VA
If you are a dog owner in or around Woodbridge VA, you know how important it is to keep your furry friend active and engaged. Dogs are social animals and need regular exercise and playtime to stay healthy and happy. My Dog Drizzy has so much energy and loves going on many long walks. Fortunately, there are plenty of activities you can do with your dog in and around Woodbridge VA. Here are some of our favorite things to do with your dog in the area.
1. Visit the Prince William Forest Park:
This 15,000-acre park is a dog-friendly paradise. There are miles of hiking trails, including the 1.6-mile South Valley Trail, which is a popular choice for dog owners. There is also a designated off-leash area where your dog can run and play to their heart's content. Just remember to keep your dog leashed on the other trails and respect the park's rules and regulations.
2. Neabsco Creek Boardwalk 
Beautiful Boardwalk in Rippon Landing over the Neabsco Marshland. My dog Drizzy loves going for early morning walks there, when the sun is out it tends to get really warm there are there isn't much shade, but regardless its beautiful.
3. Visit the Leesylvania State Park:
The Leesylvania State Park is a beautiful park located on the Potomac River. It offers several hiking trails, picnic areas, and a beach where you and your dog can enjoy a swim. There is also a fishing pier and a boat launch, so if you enjoy boating, this is a great place to bring your dog. Dogs are allowed throughout the park but must be kept on a leash.
4. Attend a dog-friendly event:
Woodbridge VA has several dog-friendly events throughout the year, such as the PetOberfest at Stonebridge at Potomac Town Center. These events offer a variety of activities for dogs and their owners, including agility courses, dog shows, and pet-friendly vendors. Check the local events calendar to see what dog-friendly events are coming up.
5. Visit a dog park:
If your dog loves to play with other dogs, consider visiting one of the local dog parks, such as the Prince William County Dog Park or the Fairfax County Dog Park. These parks offer fenced-in areas where your dog can run and play off-leash with other dogs. Just make sure your dog is up-to-date on their vaccinations and follows the park's rules and regulations.
There are plenty of things to do with your dog in and around Woodbridge VA. Whether you prefer hiking in the woods or playing at a dog park, there is something for every dog and their owner. Just make sure to follow the rules and regulations of each location and keep your dog leashed when necessary. With a little planning, you and your dog can have a great time exploring all that the area has to offer.
I love living in Woodbridge Virginia and simply enjoy all that Woodbridge has to offer from its natural beauty, history, and entertainment. Whether you're interested in exploring the outdoors, shopping, or learning about history, there's something for everyone in Woodbridge. So, plan your trip today and discover all that this amazing city has to offer!
Find out more about the Home Buying process right here 👉👉 Home Buyers Guide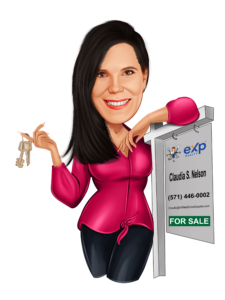 Claudia S. Nelson
eXp Realty
Call or Text 📞 (571)446-0002
Claudia's Tips for Home Sellers  👉 click here
Track your Homes Value 👉 click here 
Find out your homes value 👉 click here to get an instant value
Pro tips for home buyers 👉 click here to learn more
Follow me on Social Media
👉 Facebook 
👉 Instagram
👉 Linkedin
👉 YouTube