Dale City Open House 
4128 Ferrara Terrace, Woodbridge, VA 22193
Saturday June 10.2023

Welcome Home. 2 Level townhouse in the heart of Dale City conveniently located close to shopping and dining, Stonebridge at Potomac Town Center, Potomac Mills and in between Quantico and Fort Belvoir. The home features 3 bedrooms, 1.5 bathrooms, open family room, large dining room, fenced in backyard, lots of storage space and so much more. New Water heater and new HVAC.
Dale City Community 
Dale City is one of the largest communities in Woodbridge VA. I personally live in Dale City and I love living in this beautiful Community. Dale City has been built by mostly Hylton Homes. There are older and newer homes and everything in Dale City is alphabetically organized from A to Z pretty much. All around Dale Blvd.
Dale City is mostly a none HOA community, except for the townhouses where there is an HOA the remainder of Dale City is HOA free, is very appealing to most home owners.
Dale City has a lot to offer starting with the
Dale City Woodbridge VA Water Park 
I am so much looking forward to summer that I am writing this blog post about Dale City Woodbridbe VA Water Park in the middle of winter. We have been freezing for the past couple of days, we are in the government shutdown with no end in sight for both. So a girl can dream.
WATERWORKS
Swim, slide and splash! Waterworks Waterpark is one of the most popular and fun family aquatic playgrounds in Northern Virginia.
Waterworks is located in Andrew Leitch Park in Dale City, VA. and boasts several slides, water obstacles, wading pools, shaded shore lounge cabana areas and a full-service snack bar. This is straight from the Prince William County Parks & Recreation website. Check out the website for all the information.
Waterworks is very popular pool in the summer months frequented by young and old. Waterworks has lots to offer:
Enclosed Speed Slide

Circular Open Slide

New Children's Play Structure

New Splash Pad Features

3 Jungle Walk Features

Zero-Depth Pool Entry

Shaded Pavilions

Snack Bar

Room to Relax

Certified Safety Staff
My friend likes to bring her dog Charlie Parker for walks to Andrew Leitch Park in Dale City, VA. I took some of the pictures a while ago, while meeting Megan, my friend and her dog for a walk at the park.The Pool was closed for maintenance allowing me to take some great pictures of the Dale City Water Park. Doesn't this look like a great park. Makes me want to jump in the water and hope for warmer temperatures. I am so over this cold weather.
The Dale City Water Park is very popular during warm temperatures and on Friday nights they even have a DJ to entertain guests. If you are looking to do something later this week check out Dale City Water Park, Dale City Waterworks.
The Dale City Water Park is located along side Dale Blvd, just after Mapledale Rd. The Dale City Water Park is a great place to relax and dip your feet into the water.

Dale City Farmers Market
MARKET LOCATION ​
VDOT Commuter Lot (off Dale Blvd.)
14090 Gemini Way,
Dale City, VA  22193
HOURS OF OPERATION​
April through November 

– ​Sundays 8:00 a.m. to 1:00 p.m., rain or shine. 
December through March – Sundays 10:00 a.m. to 1:00 p.m., rain or shine.
Since 1987, Dale City Farmers Market, run by the Prince William County Department of Parks & Recreation, has been at the forefront of serving Prince William County residents. With nearly the 50 vendors in the Summer and 20+ in the Winter, the market is one of the largest open-air markets in the region.
The Dale City Farmers Market is a producer-only market, meaning all products must be grown or made by the seller. You know exactly where things are coming from and you can talk directly to the farmer or sellers. There are always a variety of vendors offering fresh vegetable, fresh fruits, bread, pastries, cakes and much more.
Besides the Farmers Market in Dale City there are more local Farmers markets to visit:
Farmers Markets are a great way to staying healthy and to purchase locally. All the local Farmers Markets have lots of different vendors and there are always great options. Even during the Winter Farmers Market in Dale City. Clearly there are way more options during the summer month.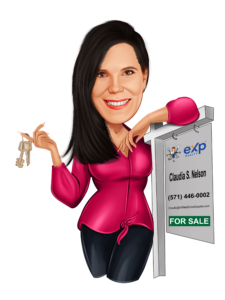 Claudia S. Nelson
eXp Realty
Call or Text 📞 (571)446-0002
Claudia's Tips for Home Sellers  👉 click here
Track your Homes Value 👉 click here 
Find out your homes value 👉 click here to get an instant value
Pro tips for home buyers 👉 click here to learn more
Follow me on Social Media
👉 Facebook 
👉 Instagram
👉 Linkedin
👉 YouTube