Neabsco Creek Boardwalk:
Embrace Nature's Beauty
Explore the enchanting Neabsco Creek Boardwalk and immerse yourself in the natural beauty it offers. We love coming to Neabsco Creek Boardwalk and I will cover everything you need to know about the Neabsco Creek Boardwalk, from its serene surroundings to its exciting features and frequently asked questions.
Welcome to Neabsco Creek Boardwalk, a hidden gem in the heart of nature that beckons both locals and tourists alike. Nestled amidst lush greenery and picturesque landscapes, this boardwalk offers an unparalleled experience that connects you to the pristine beauty of the great outdoors. I will take you on a journey through the Neabsco Creek Boardwalk, exploring its attractions, amenities, and the wonders it holds in every step.
Neabsco Creek Boardwalk: An Overview
In this section, we'll provide an overview of the Neabsco Creek Boardwalk, its history, location, and significance in the region.
Location and Access
Neabsco Creek Boardwalk is conveniently located off Rippon Blvd, close to Rt 1 and Stonebridge at Potomac Town Center. The address for the parking is 15125 Blackburn Rd, Woodbridge, VA 22191.
Experiencing Nature at Neabsco Creek Boardwalk
We love coming to the boardwalk to walk or to work out. During the summer you should go very early or very late otherwise it will be very hot, but still worth going there to check out nature. There are so many birds and all kind of wildlife to watch.  
Mesmerizing Scenic Views
Embark on a journey through breathtaking scenic views that surround the Neabsco Creek Boardwalk. From tranquil waterways to lush forests, be prepared to be captivated by the beauty of nature.
Birdwatcher's Paradise
Discover why the Neabsco Creek Boardwalk is a haven for birdwatchers and avid ornithologists. Witness a diverse array of bird species and get tips on how to enhance your birdwatching experience. I am definitely not a professional bird watcher but very much enjoy seeing all the different, beautiful birds each time I go to the boardwalk.
Flora and Fauna
Get up close and personal with the diverse flora and fauna that thrive along the boardwalk. Learn about the unique plant species and the wildlife that coexists harmoniously in this natural habitat.
Serenity and Relaxation
Unwind amidst the serenity of Neabsco Creek Boardwalk and embrace the soothing sounds of nature. Whether you're seeking solitude or a peaceful walk, this boardwalk is the perfect escape.
Engaging Activities 
There are several outstanding workout stations in Neabsco Park. They are all so much fun and perfect for the work out enthusiast and anyone just wanting to get some good exercise done. There is a fun playground, a Volleyball court and covered table space for events or simply to relax while watching the kids play. 
Frequently Asked Questions (FAQs)
Here are some common questions about Neabsco Creek Boardwalk along with their concise answers:
Q: What are the operating hours of Neabsco Creek Boardwalk?
A: Neabsco Creek Boardwalk is open daily from sunrise to sunset.

Q: Is the boardwalk wheelchair accessible?
A: Yes, the boardwalk is wheelchair accessible, providing an inclusive experience for all visitors.

Q: Are pets allowed on the boardwalk?
A: Yes, leashed pets are allowed on the boardwalk, but owners are responsible for cleaning up after them. I always take my dog to the boardwalk for walks. 
Q: Is there a fee for accessing the boardwalk?
A: No, there is no fee for accessing and enjoying the Neabsco Creek Boardwalk.
Neabsco Creek Boardwalk presents a remarkable opportunity to reconnect with nature and create unforgettable memories. With its stunning views, diverse wildlife, and engaging activities, it is a destination that appeals to nature enthusiasts of all ages. So, pack your bags, put on your walking shoes, and immerse yourself in the natural wonders of Neabsco Creek Boardwalk. Embrace the beauty of this hidden gem, and let it leave a lasting imprint on your heart.
During the Holiday Season Neabsco Creek Boardwalk is a great attraction to come and check out the Holiday Lights in Woodbridge VA.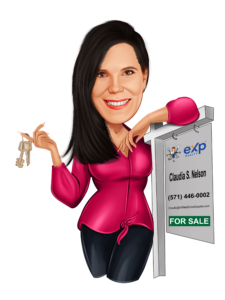 Claudia S. Nelson
eXp Realty
Call or Text 📞 (571)446-0002
Claudia's Tips for Home Sellers  👉 click here
Track your Homes Value 👉 click here 
Find out your homes value 👉 click here to get an instant value
Pro tips for home buyers 👉 click here to learn more
Follow me on Social Media
👉 Facebook 
👉 Instagram
👉 Linkedin
👉 YouTube