Paradise Springs Winery in Clifton:
A Hidden Gem for Wine Enthusiasts
If you're a wine enthusiast seeking a delightful escape not far from Woodbridge VA and the Northern Virginia Area, then Paradise Springs Winery is a perfect destination for you. Located just a short drive away, for me its about 20 minute give or take,  this charming winery offers an idyllic setting, award-winning wines, and a rich history that dates back to the 18th century. In this article, we'll take you on a virtual journey to explore the wonders of Paradise Springs Winery, the oldest winery in Virginia, and delve into the reasons why it has become a sought-after spot for both locals and tourists alike.
A Wine Lover's Haven
For wine connoisseurs, Paradise Springs Winery is a true haven. The vineyard boasts an extensive selection of wines, ranging from classic reds and whites to unique blends and specialty wines. Their commitment to quality is evident in every bottle produced, and their dedication to sustainable and eco-friendly practices makes the experience all the more rewarding. Visitors can indulge in wine tastings, guided tours, and even partake in wine-making classes to gain deeper insights into the art of winemaking. My absolute favorite wine is the Rose.
Captivating Events and Entertainment
Beyond exceptional wines, Paradise Springs Winery offers an array of captivating events throughout the year. From wine festivals to live music concerts, each event is carefully curated to create unforgettable experiences for guests. The winery's serene landscape provides the perfect backdrop for weddings and private gatherings, making it a sought-after venue for celebrations of all kinds.
Scenic Beauty and Vineyard Tours
Nestled amidst the rolling hills of Clifton, the winery's location is nothing short of picturesque. The sprawling vineyards offer a breathtaking sight, particularly during the harvest season when the leaves turn into a stunning medley of reds, yellows, and oranges. Guided vineyard tours are available for visitors to explore the winemaking process, from grape to glass, and to gain insights into the winery's commitment to sustainable agriculture.
Delectable Food Pairings
Pairing wine with the right food enhances the overall tasting experience, and Paradise Springs Winery understands this sentiment well. The winery's on-site food truck serves great food freshly prepared food. My favorite dish at the food truck is the Ceviche and the Lobster Roll, but they also have great flatbreads. Be sure to note the special hours of the food truck. You can get cheese, meats and crackers or bring your own food.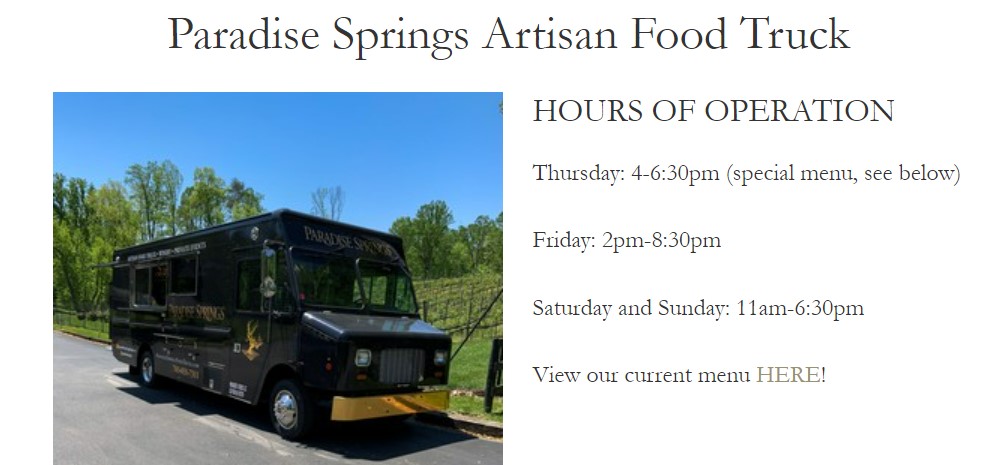 Welcoming Hospitality
The staff at Paradise Springs Winery exudes warm hospitality, ensuring that every visitor feels right at home. The friendly and knowledgeable team is always ready to guide guests through wine selections, offer recommendations, and share intriguing stories about the winery's rich history. The personal touch and genuine care contribute significantly to the winery's welcoming atmosphere. They even have dog bowls for the thirsty pups. 
Accessibility and Location
Paradise Springs Winery's convenient location near Clifton makes it easily accessible for both locals and tourists visiting the Washington, D.C. metropolitan area. The winery's proximity to the city's vibrant life and cultural attractions makes it an ideal day trip or weekend getaway. Dogs are welcome at the winery, which makes it perfect to go on a hike with your dog and after have a drink at the winery, just like what I love to do. 
Paradise Springs Winery in Clifton stands as a testament to the enduring legacy of winemaking in Virginia. Its rich history, commitment to sustainable practices, exceptional wines, and inviting ambiance make it a hidden gem worth discovering. Whether you're a wine enthusiast seeking a serene escape or a visitor looking to experience the best of Virginia's wine country, Paradise Springs Winery is the perfect destination that will leave you with lasting memories.
So, plan your visit to Paradise Springs Winery today and embark on an unforgettable journey of wine, history, and natural beauty! Cheers!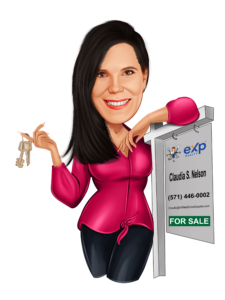 Claudia S. Nelson
eXp Realty
Call or Text 📞 (571)446-0002
Claudia's Tips for Home Sellers  👉 click here
Track your Homes Value 👉 click here 
Find out your homes value 👉 click here to get an instant value
Pro tips for home buyers 👉 click here to learn more
Follow me on Social Media
👉 Facebook 
👉 Instagram
👉 Linkedin
👉 YouTube