Welcome to the ultimate community information blog about Port Potomac in Woodbridge, VA! Whether you're a resident or planning to move here, we've got you covered. Let's explore the wonders of Port Potomac together!
The Enchanting Neighborhood of Port Potomac
Nestled along the picturesque Potomac River, Port Potomac is conveniently located between Quantico and Fort Belvoir.  Known for its friendly atmosphere, tree-lined streets, and abundant green spaces, this community offers a tranquil and serene setting that feels like home from the moment you arrive.
Location and Accessibility
One of the key reasons why Port Potomac is so highly sought-after is its prime location right in between Quantico and Fort Belvoir. Situated just off I-95, commuting to major employment centers in Washington D.C. or Northern Virginia becomes a breeze. Additionally, residents enjoy convenient access to VRE (Virginia Railway Express) stations, making city explorations hassle-free.
Homes in Port Potomac 
Port Potomac offers a diverse range of housing options, catering to various lifestyles and preferences. From charming townhouses with cozy gardens to elegant single-family homes with modern amenities, there's something for everyone. The well-designed architecture and meticulous landscaping contribute to the overall allure of the neighborhood.
Community Amenities
Port Potomac takes pride in providing its residents with an array of top-notch amenities that enrich their daily lives. These include community centers, swimming pools, playgrounds, tennis courts, and well-maintained walking trails.
– Professional Landscaping
– Dog Park
– Exercise Stations through out the community
– Soccer Field
– Tot Lots
– Club House
– Indoor & Outdoor Pool
– Fitness Center
– Tennis Courts
– Business Center
– and more
Recreation and Entertainment
Living in Port Potomac means being surrounded by an abundance of recreational opportunities that cater to all ages.
Leesylvania State Park
For nature enthusiasts, Leesylvania State Park is a true paradise. With its scenic trails, picnic areas, and waterfront views, it's an ideal spot for family outings and nature walks.
Potomac Mills Mall
Shopaholics will find bliss at Potomac Mills Mall, one of the largest outlet malls in Virginia. With numerous shops, restaurants, and entertainment options, it's a perfect destination for a day of retail therapy and fun.
Sentara Northern Virginia Medical Center
Located just minutes away, Sentara Northern Virginia Medical Center offers comprehensive healthcare services, ensuring that residents have access to top-notch medical care whenever needed.
Port Potomac in Woodbridge, VA, is undeniably an exceptional place to call home. 
If you're looking for a place that offers the perfect blend of suburban tranquility and urban convenience, Port Potomac in Woodbridge VA is a great destination among many other great Woodbridge VA neighborhoods. Embrace the beauty of this enchanting neighborhood and make it your home today!
So why wait? Experience the magic of Port Potomac in Woodbridge, VA – a community that embraces you with open arms and welcomes you to the life you've always dreamed of!
So, plan your visit to Paradise Springs Winery today and embark on an unforgettable journey of wine, history, and natural beauty! Cheers!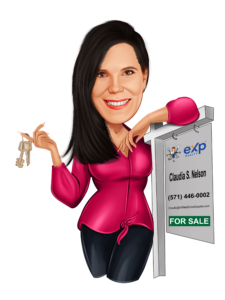 Claudia S. Nelson
eXp Realty
Call or Text 📞 (571)446-0002
Claudia's Tips for Home Sellers  👉 click here
Track your Homes Value 👉 click here 
Find out your homes value 👉 click here to get an instant value
Pro tips for home buyers 👉 click here to learn more
Follow me on Social Media
👉 Facebook 
👉 Instagram
👉 Linkedin
👉 YouTube