The Ultimate Dining Guide at Stonebridge,
Potomac Town Center, Woodbridge VA
If you're on the hunt for a delightful dining experience amidst the lively atmosphere of Stonebridge at Potomac Town Center in Woodbridge, VA, you've come to the right place! As a real estate agent with a passion for great food, I'm excited to give you the lowdown on the fantastic culinary scene in this vibrant community. Whether you're a resident or just exploring the area, these restaurants will surely tantalize your taste buds. The list is alphabetical and I truly visited all of the restaurant some very recently and some a little longer ago. I have been living in Woodbridge VA since before Stonebridge VA was built, I still remember Woodbridge VA without that great place. 
Its been a while since I last was at Alamo Drafthouse, but I do have to say I very much love the movie theater. Don't remember what I ordered but I do remember I liked it and they have great drinks. 
This is a great, I believe family, run restaurant with an outstanding menu especially if you are in the mode for something a little different. I love ceviche, and each time I have been to Aroma I have ordered a different ceviche. Trust me I have been there several times, they have a great selection of ceviche and of course many other delightful dishes.  
Great place to have a happy hour, go for weekend brunch or catch the game on Sundays. My favorite is the avocado toast for brunch and the sangria or mimosas. For happy hours I love their flatbreads. Happy Hours are Monday to Friday from 4pm – 7pm with specials on drinks and select bar bites and flatbreads! 
Korean Chicken, I have not been to this place yet but its on my list. Let me know your experience at bb.q Chicken. 
I am probably the worst German as I don't drink or like beer, so this place isn't much on my list, simply because I am not a beer lover. But having said that, I love the atmosphere there and they always have so many events, like karaoke, trivia, game night and so much more. Just check out their website for all the upcoming events. 
If you are in the mode for good pizza and something different from the usual fast food pizza this is the place to go to. They use brick oven to enhance the natural flavor and it comes as close to Italian pizza as possible. 
For a quick bite and especially if you are in the mode for a good burger you should head over to BuergerFi. Its been a while since I had a burger from there but I remember they are a delicious and it reminds me that I should be heading over there soon. 
Need a sweet treat, cold treat Campbells Frozen Custard is a great place to stop. Also it is located right outside the water play and open area where kids can play and adults can relax. 
In the mode for a quick healthy bit head over to Cava Table. Pick and choose what you want and make your own bowl.
As of this video and blog this was coming soon. I did however see the Crubml Cookie car and would assume it is opening very very soon. I know a lot of people in and around Woodbridge VA are very much exited to see Crumbl Cookies coming to Stonebridge at Potomac Town Center.
Very good Thai Food and I love their great decoration. Be sure to look at the website and tell me what you think about their decoration. When you walk to the restaurant you see the green bike and it sets the atmosphere. If you like the décor you will love the food and even if you are not a fan of the décor the food is delicious. We love coming here and always have a great time. 
Again I am strange. I do not like donuts, lucky me, but my husband and son love duck donuts so each time we go to Stonebridge at Potomac Town Center, we stop at Duck Donuts for a dozens of their donuts. And mostly they are not lasting very long.
We went there shortly after this place opened and I enjoyed it very much. My husband was complaining about the seating as he is 6 foot 3 inches tall and didn't have enough room for his legs with the cook top in the middle. But this is truly a cool place to to have a good time with your date or with an entire group.

We went there after we got married at courthouse and Firebirds will always hold a special place in our heart. I love everything they have on their menu, but I am always partial to salmon or the salad options. 
In the mode for chicken. Healthy fast food with good sauces. 
We love coming to Not your average Joe's at Stonebridge at Potomac Town Center. Their bread and dipping sauce is simply delicious and so addictive. We used to go there quite often and I very much enjoy their bar and in the summer their outside seating. My favorite order is the Waldorf salad, normally my go to order. 
Quick and delicious sandwiches. 
Frozen yogurt. This is one place I have not been but frozen yogurt always tastes great, sounds like a healthy treat. 
For all the coffee lovers Starbucks is the go to place, or if you just want nice refreshing drink and sit down relax and or people watch Starbucks is a great place everywhere. 
One of my favorites as I love, love sushi and at this place they also have something for my husband as he doesn't like sushi at all. They don't have the most customer friendly hours as they close after the lunch rush and if you are getting there a little late you might be out of luck but if you are going for lunch or dinner and you love sushi as much as I do you should try it. 
Love their chips and salsa that you get as soon as you order a drink or sit down. Frozen margaritas at Uncle Julio's are excellent and they have so many more delicious things on the menu. 
Technically not a restaurant but they do have lots of seating to sit down and enjoy their food from the food bar or from any of the places. Personally I like to get their sushi. Don't come at me for grocery store sushi Wegmans sushi is pretty good and healthy.
There you have it, folks – a tantalizing taste of the diverse culinary offerings at Stonebridge, Potomac Town Center, Woodbridge VA! Whether you're a local looking for a new favorite spot or a potential resident exploring the area's amenities, these restaurants are sure to impress. From mouthwatering cuisine to inviting atmospheres, Stonebridge has it all.
As a real estate agent, I can confidently say that Stonebridge at Potomac Town Center not only offers an array of dining choices but also provides a fantastic stores, like DSW or Black House White Market and many many more. So, why wait? Come on down to Stonebridge and explore both its all it options and the delectable delights of its thriving restaurant scene. 
If you're interested in discovering your dream home near these fantastic eateries, don't hesitate to reach out to me. I'd be more than happy to assist you in finding the perfect property that matches your lifestyle and preferences. Potomac Club is walking distance, or pretty much right across from Stonebridge at Potomac Town Center. 
Happy dining and house hunting! Cheers! 🍽️🏠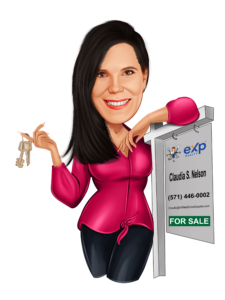 Claudia S. Nelson
eXp Realty
Call or Text 📞 (571)446-0002
Claudia's Tips for Home Sellers  👉 click here
Track your Homes Value 👉 click here 
Find out your homes value 👉 click here to get an instant value
Pro tips for home buyers 👉 click here to learn more
Follow me on Social Media
👉 Facebook 
👉 Instagram
👉 Linkedin
👉 YouTube