🏠 Tips for Home Sellers on a Budget 🏠
Be sure to check out my above video for the entire scoop and be sure to continue reading right here! 😃 As a top Woodbridge, Virginia real estate agent, I totally get that selling your home can be a bit daunting, especially when you're trying to keep costs in check. But fear not! 🛡️ Selling your home on a budget is totally doable, and I've got some awesome tips to help you make the most of it! 💰💪
🏡 1. First Impressions Matter! 🏡
You know what they say, "You never get a second chance to make a first impression!" 🤝 When potential buyers step into your home, you want them to instantly fall in love. So, invest some time in sprucing up the curb appeal. A fresh coat of paint on the front door 🚪, some potted plants 🌿, and a tidy lawn can work wonders!
🛋️ 2. Declutter & Depersonalize 🛋️
Buyers want to envision themselves living in your home, so it's essential to create a blank canvas for them. Clear out the clutter 🗑️ and remove personal items like family photos and memorabilia. This helps buyers see the potential of the space and imagine how they would make it their own. There is no cost in decluttering especially if you are downsizing to a smaller home. Get rid of the stuff that you are not planning on taking prior to listing your home. Or use the garage, utility room or a designated room in the home as a catch all room. 
💡 3. Let There Be Light! 💡
Dark and gloomy homes don't appeal to anyone. Maximize the natural light ☀️ by opening curtains and blinds during showings. Adding some strategically placed mirrors can also create an illusion of more space and brightness. If you have any old light fixtures, especially if these light fixtures are golden or simply show the age of the home consider replacing them with something more modern. It will have a huge impact and will not break the budget.  
🎨 4. Paint Like a Pro! 🎨
Repainting your home is one of the most cost-effective ways to give it a fresh look. Stick to neutral colors 🌈 as they appeal to a broader range of buyers. A freshly painted room looks well-maintained and can significantly increase your home's perceived value. If you do not have the funds to or time to repaint the entire home consider wiping off scuff marks from the wall with a magic eraser or Clorox wipes  and at the very least get trim paint to fix trim and re-caulk where needed especially at the stairs. It will make a difference and is not too expensive. 
🔧 5. DIY & Fix It Up 🔧
Before splurging on professional repairs, try tackling some simple DIY projects. Fix leaky faucets 💧, squeaky doors 🚪, and replace any burned-out light bulbs 💡. These minor repairs can make a big difference without breaking the bank.
🧹 6. Clean, Clean, Clean! 🧹
A clean home speaks volumes about how well you've taken care of it. 🏠 Give your home a thorough cleaning, from top to bottom. Pay extra attention to the kitchen and bathrooms, as these are high-priority areas for buyers. Also be sure to have clean light switches, the actual light and fans should also be cleaned, nothing worse then a dusty fan it looks unkept. 
🎯 7. Bonus Tip in my Video 🎯
Be sure to catch my video for a bonus tip. 
Remember, selling your home on a budget doesn't mean you have to compromise on its appeal. With these tips and a little creativity, you can make your home stand out and sell like hotcakes! You should also consider talking to your Real Estate Agent early on in the process as he or she can help you with some budget friendly tips that fit your specific situation and your home. If you need tips and tricks give me a call today and I am happy to chat with you more on budget friendly tips. If money is no objective there are more tips I have, but of course I will work with you and your desire and most importantly budget to getting your home ready. But a lot of tips do not require an expensive budget.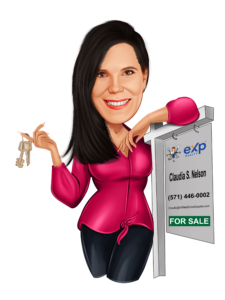 Claudia S. Nelson
eXp Realty
Call or Text 📞 (571)446-0002
Claudia's Tips for Home Sellers  👉 click here
Track your Homes Value 👉 click here 
Find out your homes value 👉 click here to get an instant value
Pro tips for home buyers 👉 click here to learn more
Follow me on Social Media
👉 Facebook 
👉 Instagram
👉 Linkedin
👉 YouTube