Discover New Home Construction in Woodbridge, VA! 
Hey there, savvy homebuyers! 🏡 If you're on the hunt for your perfect abode in  Woodbridge, Virginia area, you're in for a treat! 🎉 Let's talk about the exciting world of new home construction and explore some fantastic sites where your future dream home could become a reality! 🏠🔑
🌆 Why New Home Construction in Woodbridge, VA? 🌆
Imagine walking into a brand-new home, where every corner exudes freshness and modernity. New home construction offers you the chance to create a space that truly reflects your style and preferences. From the layout to the finishes, it's all about YOU! 🎨💫 Plus, with the latest in energy-efficient technologies and smart home features, you'll enjoy a lifestyle that's both comfortable and sustainable. 🌿💡
Now, let's explore some of the hottest new construction sites in Woodbridge, VA that you definitely need to check out:
Four Seasons at Virginia Crossing: Resort-Style Living 🌅🏖️
Get ready to live your best life at Four Seasons! This 55+ active adult community is all about luxury, comfort, and leisure. With an array of amenities like a clubhouse, fitness center, and outdoor pool, you'll feel like you're on vacation every day! 🏊‍♀️⛳️ Choose from various floor plans that cater to your preferences and start enjoying the golden years in style. Currently they are selling the condos, with one car garage and also the building has an elevator. 
Tayloe Ridge at the Foundry: Urban Chic Vibes 🏢🌆
If modern urban living is your jam, Tayloe Ridge is the place to be, this community is close to Stonebridge at Potomac Town Center as well as Potomac Mills Mall and for nature lovers Neabsco Creek Boardwalk or Leesylvania State Park. These contemporary townhomes are designed with sleek aesthetics and efficient layouts in mind. Located near dining, shopping, and entertainment options, it's a prime spot for those who love city convenience with suburban charm.
Neabsco Commons: Your Serene Retreat 🌳🏞️
Close to Stonebridge at Potomac Town Center, in the video I am saying its walking distance, but someone just reminded me that here in the USA no one really walks, which unfortunately is true. But honestly you could walk to Stonebridge its just across the street. Neabsco Commons offers 2 over two condo style townhomes close to everything. The top floor has an option to turning the roof into an terrace, which would be great for entertainment. The community is right off the I95 exit making this a commuters dream location. 
Belmont Bay 4 or 5 lots available  🌊🚤
For those who want to be in Belmont Bay this is your chance. There are about 4 or 5 lots where they are building single family homes with a nice large backyard. The community's marina and proximity to Belmont Bay Marina Park cater to water enthusiasts.
Lukas Park: Where Dreams Come to Life 🏘️🌷
Nestled in a picturesque setting, Lukas Park offers 2 car garage 3 level townhouses with a few customizable options. Convenitenly located off Minniville Rd and Darbydale and the proximity to shopping, dining and more make this a great community to calling home.  
So there you have it, folks! 🎉🏡 These exciting new home construction sites in Woodbridge, VA are brimming with potential and possibilities. As your trusted Woodbridge real estate agent, I'm here to guide you through the journey of finding your dream home. Let's explore these fantastic options together and make your homeownership dreams a reality! 🏠🗝️ Feel free to reach out to me for more information, and let's embark on this exciting adventure! 🤝🌟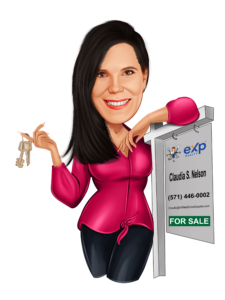 Claudia S. Nelson
eXp Realty
Call or Text 📞 (571)446-0002
Claudia's Tips for Home Sellers  👉 click here
Track your Homes Value 👉 click here 
Find out your homes value 👉 click here to get an instant value
Pro tips for home buyers 👉 click here to learn more
Follow me on Social Media
👉 Facebook 
👉 Instagram
👉 Linkedin
👉 YouTube