🏡🔍 Exploring HOA Living in Northern Virginia:
Pros and Cons to Consider! 🏘️🤔
If you're considering a move to the charming neighborhoods of Northern Virginia, chances are you've come across the term "HOA" – Homeowners' Association. It's like a little community within a community, offering a unique living experience. 🌟 Today, let's chat about the pros and cons of HOA living, so you can make an informed decision that fits your lifestyle and preferences. 🤝🏡
👍 The Upsides of HOA Living in Northern Virginia 👍
Aesthetic Harmony and Curb Appeal 🏘️🌷
Pro: HOAs often have strict guidelines about property maintenance, ensuring that the neighborhood maintains a cohesive and appealing appearance. It's like living in a beautifully landscaped haven!
Shared Amenities and Facilities 🏊‍♂️🎾
Pro: Many HOA communities offer perks like swimming pools, fitness centers, and parks that residents can enjoy without the hassle of maintenance. It's like having a resort right in your backyard!
Resolution of Disputes ⚖️🛠️
Pro: In case of neighborly disagreements or conflicts, the HOA can step in to mediate and find solutions. It's like having a built-in peacekeeper for the community.
Property Value Protection 💰🏡
Pro: HOAs work to maintain property values by enforcing rules that prevent neglected properties and other factors that can drag down prices. It's like having a safety net for your investment.
👎 The Considerations of HOA Living in Northern Virginia 👎
Fees and Assessments 💸📋
Con: HOA membership comes with fees, which cover maintenance and community services. Make sure to factor these costs into your budget – it's like a regular subscription for neighborhood amenities.
Rules and Regulations 📜🚫
Con: HOAs have guidelines that residents must follow, covering everything from exterior paint colors to lawn maintenance. It's like living with a set of community guidelines.
Limited Personalization 🎨🛋️
Con: Some HOAs restrict the extent to which you can personalize your home's exterior or outdoor space. It's like having a canvas with a few predetermined brushstrokes.
Potential for Conflict 🤝🔥
Con: Differences of opinion with the HOA or neighbors about rules and decisions can lead to conflicts. It's like navigating a tightrope of community dynamics.
Lack of Privacy 🕶️🤐
Con: The close-knit nature of an HOA community might mean less privacy compared to living on a more secluded property. It's like having friendly neighbors nearby – all the time.
So, there you have it – the pros and cons of HOA living in Northern Virginia. 🌆🤗 As your trusted Woodbridge real estate agent, I'm here to help you navigate these considerations and find the perfect home that aligns with your preferences. Whether you're drawn to the sense of community or crave more independence, I've got your back. Let's chat, explore, and make your homeownership dreams a reality – HOA or no HOA! 🏠🌟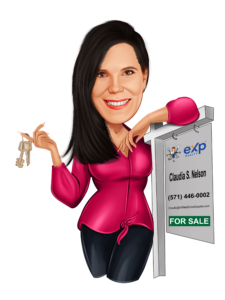 Claudia S. Nelson
eXp Realty
Call or Text 📞 (571)446-0002
Claudia's Tips for Home Sellers  👉 click here
Track your Homes Value 👉 click here 
Find out your homes value 👉 click here to get an instant value
Pro tips for home buyers 👉 click here to learn more
Follow me on Social Media
👉 Facebook 
👉 Instagram
👉 Linkedin
👉 YouTube