Satisfy Your Cravings: Exploring Potomac Mills Mall Food Court and Nearby Restaurants in Woodbridge, VA!
If you're in the Woodbridge, Virginia area, you're in for a treat that's just as exciting as finding your dream home. 🏡🌟 Today, we're diving fork-first into the delectable world of Potomac Mills Mall food court and the mouthwatering restaurants that surround this shopper's paradise. Let's indulge in a culinary adventure like no other! There are a lot of great places at the food court and not all of them are fast food. I will also tell you about my somewhat heathy and favorite food court options, just check out the above video. 
🍟 The Potomac Mills Mall Food Court: A Flavorful Fiesta! 🍟
Picture this: You've just scored some amazing deals on your favorite brands, and now your taste buds are ready for a treat. Welcome to the Potomac Mills Mall Food Court, where a world of flavors awaits! 🌎🍔 From quick bites to international delights, this food court has it all:
Sarku Japan: Sushi and More! 🍣🥡
Savor the taste of Japan with delectable sushi rolls and hibachi-style dishes. It's like a mini culinary trip to Tokyo!
Charleys Philly Steaks: Philly Love 🥖🧀
Sink your teeth into authentic Philly cheesesteaks and loaded fries. It's like a taste of Philadelphia right here in Woodbridge!
Check out the video for my favorite healthy choice and my go to restaurant at the Potomac Mills Mall Food Court. I will give you a hint, I believe the origin of the food is Hawaii.
🍽️ Dining Delights Beyond the Mall 🍽️
But the deliciousness doesn't stop at the food court! Woodbridge, VA, is a treasure trove of fantastic restaurants that cater to all tastes:
Texas Roadhouse: Legendary Steaks 🥩🍻
Sink your teeth into juicy steaks, finger-licking ribs, and a warm, inviting atmosphere. It's like a Texan BBQ feast that leaves you craving more.
Carrabba's Italian Grill: Amore on a Plate 🍝🍷
Savor the taste of Italy with pasta, seafood, and indulgent desserts. It's like a romantic Italian getaway for your taste buds.
Not Your Average Joe's: Creative Cuisine 🍴🎨
Explore an eclectic menu featuring creative dishes that push the boundaries of flavor. It's like a culinary adventure with every order!
and many many more. 
So, whether you're fueling up at the Potomac Mills Mall food court or exploring the array of restaurants in Woodbridge, VA, your taste buds are in for a treat! 🍔🍣 As your trusted Woodbridge real estate agent, I'm here to guide you through all aspects of this vibrant community. If you're considering a move or simply looking for your next dining adventure, I'm just a chat away. Let's chat, explore, and savor the best that Woodbridge has to offer – both in real estate and in culinary delights! 🏡🍽️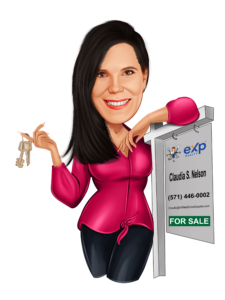 Claudia S. Nelson
eXp Realty
Call or Text 📞 (571)446-0002
Claudia's Tips for Home Sellers  👉 click here
Track your Homes Value 👉 click here 
Find out your homes value 👉 click here to get an instant value
Pro tips for home buyers 👉 click here to learn more
Follow me on Social Media
👉 Facebook 
👉 Instagram
👉 Linkedin
👉 YouTube