🌽🍅 Dale City Farmers Market! 🛍️🥦

This Sunday I went to the Dale City Farmers Market. This is my favorite farmers market in and around Woodbridge VA as it is happening on a Sunday and they have lots of great vendors, something for everyone. If you're a Woodbridge, Virginia resident or planning to be one (great choice, by the way!), you're in for a treat. Let's diving into the vibrant world of farmers markets, and there's one star that shines oh-so-bright: the Dale City Farmers Market! 
🍀 Dale City Farmers Market: A Culinary Adventure Awaits! 🍀
Picture this: a sunny morning, a friendly atmosphere, and a colorful array of fresh produce, artisanal goods, and delightful treats. That's the Dale City Farmers Market experience in a nutshell! 🌞🛍️ This market is not just a shopping destination; it's a community gathering where you can chat with local farmers, artisans, and fellow food enthusiasts. Every time I go there I am sure to run into one of my friends or even clients. From the juiciest tomatoes to the fluffiest pastries, you'll find it all here. 
Convenient location at the corner of Dale Blvd and Minniville Rd at the commuter lot. The commuter lot also serves as parking for all the visitors. So plenty of space to park and to enjoy. 
14090 Gemini Way, Dale City, VA
Spring/Summer/Fall Market
Sundays April 2 – November 26, 2023
8am-1pm
Dale City Holiday Market
Saturday, December 2, 2023
9:30am-3pm
Winter Market
Sundays
Dec 2023-March 2024
10am-1pm
But wait, there's more! Here's a sneak peek into the other amazing farmers markets Woodbridge has to offer:
Prince William Farmers Market 🍊🍯
This Farmers Market is held at the Pfitzner Stadium at the County Complex and offers a weekday options if you don't feel like going to the farmers market on a weekend. They have lots of great vendors and are conveniently located for Woodbridge and Manassas residents to visit the farmers market. 
7 County Complex Court, Woodbridge, VA (Stadium)
Prince William Farmers Market
Thursdays 3 to 7 pm 
April 13-Nov 9, 2023
Tackett's Mill Farmers Market: Small-Town Charm 🏡🍞
Located at Tackett's Mill Center, this market brings together local producers, artisans, and crafters. From baked goods to handcrafted jewelry, you'll discover a range of treasures while supporting the local economy. 🍰📿
Tackets Mill Farmers Market
Tuesday from 3:30 to 6:30 pm 
Whether you are a seasoned Woodbridge resident or planning to make this wonderful community your home, be sure to carve out some time for the Dale City Farmers Market and these other delightful options. 🛍️🌆 Your taste buds and senses will thank you! And hey, if you're considering a move to this area, I'm your go-to Woodbridge real estate agent ready to help you find the perfect home sweet home. 🏠🗝️ Until then, happy market-hopping and happy exploring! 🥦🍇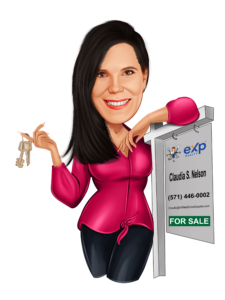 Claudia S. Nelson
eXp Realty
Call or Text 📞 (571)446-0002
Claudia's Tips for Home Sellers  👉 click here
Track your Homes Value 👉 click here 
Find out your homes value 👉 click here to get an instant value
Pro tips for home buyers 👉 click here to learn more
Follow me on Social Media
👉 Facebook 
👉 Instagram
👉 Linkedin
👉 YouTube