🌆🏡 Moving to Northern Virginia:
Your Guide to the Area! 🌟🏞️
Hey there, future Northern Virginia explorer! 🏡🌟 If you're considering a move to this dynamic region, get ready for an adventure that blends urban excitement with suburban charm. As your go-to Northern Virginia and Woodbridge VA real estate agent, I'm thrilled to introduce you to the wonderful world of Northern Virginia and why it's an incredible place to call home. Let's dive in and discover what makes this region truly special! 
🌇 The Northern Virginia Experience: Urban Energy Meets Suburban Bliss 🌆
Northern Virginia is like no other – it's where the fast-paced energy of the city meets the tranquility of the suburbs. 🚆🏞️ Picture this: You can spend your mornings exploring the iconic landmarks of Washington, D.C., and your afternoons unwinding in a peaceful suburban retreat. It's a perfect blend that caters to every lifestyle, whether you're a city lover or a nature enthusiast.
🗺️ Proximity to the Nation's Capital: A Stone's Throw Away from History 🏛️
Living in Northern Virginia means you're just a hop, skip, and a jump away from the heart of American history and culture – Washington, D.C. 🏛️🎉 Visit world-renowned museums, iconic monuments, and immerse yourself in the vibrant cityscape. And when you're ready for a quieter ambiance, retreat to your cozy haven in the Northern Virginia suburbs. It's like having the best of both worlds at your doorstep!
💼 Thriving Labor Market: Opportunities Await! 💼🌟
Looking for career growth and opportunities? Northern Virginia has got you covered. 📈💼 With its proximity to D.C. Tysons Corner and its booming tech industry, this region is a hub for job seekers and professionals alike. From government agencies to tech giants, you'll find a diverse array of industries that offer a multitude of possibilities for personal and professional development.
⚓ Home to Military Bases: A Tribute to Service 🇺🇸🏰
Northern Virginia proudly houses several military bases, such as The Pentagon, Quantico, Fort Belvoir and many more, paying tribute to the dedication and sacrifice of our armed forces. 🎖️ Whether you're a military family or simply admire the sense of honor and service, this region stands as a symbol of strength and unity.
🏘️ Communities That Warm Your Heart: More Than Just Houses 🏘️🌷
From the bustling streets of Arlington to the serene neighborhoods of Woodbridge, Northern Virginia's communities are as diverse as they are welcoming. 🌸🏡 Each town has its own unique personality, offering a blend of culture, character, and camaraderie. Whether you're seeking a lively urban atmosphere or a tight-knit suburban enclave, Northern Virginia has the perfect spot for you to call home. The rule of thumb is the closer in you are to Washington DC the more expensive the homes go and the further out you go your $$ will give you a bigger home with more yard. 
🌳 Embrace Nature's Beauty: Parks and Green Spaces Abound 🌳🌞
Nature lovers, rejoice! Northern Virginia is dotted with parks, trails, and green spaces that offer an escape from the daily grind. 🚴‍♂️🌲 Explore scenic trails, enjoy picnics by the river, and relish the outdoors in your own backyard. It's the perfect recipe for a balanced and fulfilling lifestyle.
So, whether you're drawn to the allure of city lights, the tranquility of suburban living, or the rich history that surrounds you, Northern Virginia is a region that has it all. 🏞️🏙️ As your trusted Woodbridge real estate agent, I'm here to help you navigate this exciting journey. Let's chat, explore, and find your perfect piece of Northern Virginia – a place where every day feels like an adventure and home is truly where the heart is. 🏡❤️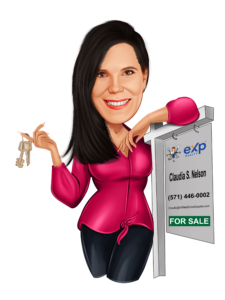 Claudia S. Nelson
eXp Realty
Call or Text 📞 (571)446-0002
Claudia's Tips for Home Sellers  👉 click here
Track your Homes Value 👉 click here 
Find out your homes value 👉 click here to get an instant value
Pro tips for home buyers 👉 click here to learn more
Follow me on Social Media
👉 Facebook 
👉 Instagram
👉 Linkedin
👉 YouTube