🏗️ New Construction in Northern Virginia:
Your Dream Home Awaits! 🏡🌟
Be sure to watch my video for all the tips and tricks that come with purchasing a new Home in Northern Virginia and see some of the top new home communities in Northern Virginia. 
Attention Future homeowners! 🏠😄 If you're on the hunt for your dream home in Northern Virginia, let me tell you, the excitement is REAL! 🌟 And guess what? New construction homes are all the rage right now!  As a top Woodbridge, Virginia real estate agent, I'm here to spill the beans on why new construction might just be the perfect choice for you! Let's dive in! 
🌆 Embrace Modern Living in a Thriving Community 🌆
Northern Virginia is bustling with life and opportunities!  When you opt for new construction, you get to be part of a growing community. Imagine having access to top-notch amenities, beautiful parks, and trendy hotspots just a stone's throw away from our Nations Capital and all that Washington DC has to offer! 🎉 Embrace the convenience and perks of modern living!
🏡 Your Style, Your Way: Personalization Galore! 🎨🏠
One of the most fantastic aspects of new construction is the chance to make your home uniquely YOURS! 🏡💖 From selecting the flooring, cabinets, and countertops to choosing the color scheme that matches your vibe, you get to call the shots! No more settling for someone else's taste—this is all about YOU! 
🌳 Green, Energy-Efficient, and Tech-Savvy 🌳💡🔌
New construction homes are designed with sustainability and energy efficiency in mind!  Say hello to lower utility bills and a smaller carbon footprint. Additionally, these homes often come equipped with the latest tech advancements, making your life easier and more connected! Embrace the future of smart living!
🚧 A Blank Canvas: Create Memories from Scratch! 🎨🖌️
There's something magical about being the first to live in a brand-new home! 🌟✨ You get to create cherished memories from day one and watch your home transform into a space that reflects your personality and lifestyle. Start the next chapter of your life in a place that's full of possibilities! 
🎉 Ready, Set, Move-In! No Renovations Needed! 🎉📦
Let's face it—moving can be stressful. 😩 But with a new construction home, you get to skip the whole renovation phase! Everything is fresh, sparkling, and brand-spankin' new!  Unpack your boxes, kick back, and start living the good life in your move-in ready haven! 🏡🎉
📈 Investment Potential: The Future Looks Bright! 💰🔮
When you invest in a new construction home in Northern Virginia, you're not just buying a place to live; you're making a smart financial move! As the area continues to grow and flourish, so does the value of your home! It's a win-win situation that sets you up for a prosperous future! 
So there you have it, folks! 🎉🏡 New construction homes in Northern Virginia offer an incredible opportunity to create your perfect living space, enjoy modern amenities, and be part of a vibrant community! 🏙️💖 As your top Woodbridge real estate agent, I'm here to help you find the new construction home of your dreams! Let's get started on this exciting journey together! 🤝✨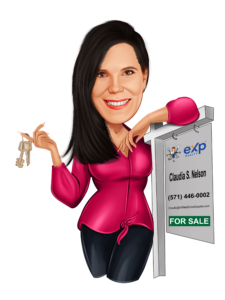 Claudia S. Nelson
eXp Realty
Call or Text 📞 (571)446-0002
Claudia's Tips for Home Sellers  👉 click here
Track your Homes Value 👉 click here 
Find out your homes value 👉 click here to get an instant value
Pro tips for home buyers 👉 click here to learn more
Follow me on Social Media
👉 Facebook 
👉 Instagram
👉 Linkedin
👉 YouTube