Think Twice Before Moving to Woodbridge, Virginia!
Today, I'm diving into a topic that might raise a few eyebrows: why you might want to reconsider your plans of moving to Woodbridge, Virginia. Strange topic for a Woodbridge VA Real Estate Agent and for a Woodbridge VA resident, but if you know my story you know I never wanted to move to Woodbridge VA or the Suburbs, but I have come to love this community so much so I can give you the perfect insides from a City Girl that never wanted to leave her 1 bedroom rental in Washington DC. 
Living and working in Woodbridge has been an incredible journey for me. The community, the growth, and the opportunities are all part of what makes this place special. However, there are a few factors that not everyone might be prepared for. So, before you start packing your bags, let's talk about why Woodbridge might not be your perfect match and things that made me not want to move to Woodbridge VA back in the day, well that was ages ago. 
1. Traffic Troubles:
Let's face it – traffic around the DMV can be a real headache. While it has eased up a bit due to the pandemic, commuting from Woodbridge to Washington DC can still be time-consuming. Be sure to factor in the potential commute time and traffic conditions before making the move. We do have several commuter options such as a Commuter Bus, The VRE train with two stops in Woodbridge VA at Rippon Landing and Belmont Bay. 
2. Weather:
Woodbridge experiences the full spectrum of seasons, from snowy winters to humid summers. If you're not a fan of cold weather or sweltering heat, you might want to think twice. Snow days can disrupt plans, and the humidity in summer can be a challenge for some. It is a little bit funny for this girl growing up in Switzerland, never having had a snow day, for lots of snow, having the entire city shut down for a little bit of snow, and with a little bit it might be a dusting, but no kidding sometimes we get a good amount of snow here. Talking about the summer humidity its not Florida hot and humid but it definitely gets humid around here. 
3. Political Pulse:
Living close to the nation's capital has its perks, but it also means being in the thick of politics. If you'd rather not be surrounded by political chatter, you might find it hard to escape. With government offices, White House staff, and congressional employees nearby, politics often becomes a hot topic.
Don't get me wrong – I absolutely love Woodbridge VA and everything it offers. The growth I've witnessed since 2008 has been nothing short of remarkable. However, I want to make sure you consider all this when making a decision of moving. If you're considering a move to Woodbridge, it's crucial to weigh the pros and cons.
Remember, I'm here to guide you through every step of your real estate journey. Whether you're curious about Woodbridge, need advice on your move, or want to explore your options, don't hesitate to reach out. Together, we'll find the best path for you.
Connect with me: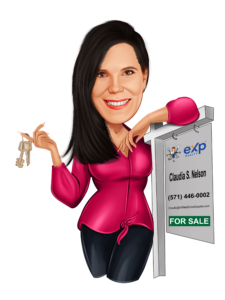 Claudia S. Nelson
eXp Realty
Call or Text 📞 (571)446-0002
Claudia's Tips for Home Sellers  👉 click here
Track your Homes Value 👉 click here 
Find out your homes value 👉 click here to get an instant value
Pro tips for home buyers 👉 click here to learn more
Follow me on Social Media
👉 Facebook 
👉 Instagram
👉 Linkedin
👉 YouTube