Buying or Renting a home if you have pets?
Do you own pets and are debating if you should purchase a home or rent a home. For me the decision is always an easy one as buying a home has so many advantages. The decision should even be easier if you are a pet parent. If you are trying to rent a home with pets its not always easy to find a landlord that will accept pets. Currently I have 2 cats and a dog. All well behaved but spoiled rotten. Thanks god I own my home and don't have to worry about moving.
The advantages of purchasing your home should be obvious if you are a pet parent. No security deposit for pets. Not having to worry if a landlord will accept pets. You don't have to worry about a security deposit or a pet deposit and you don't have to worry about getting these deposits back if your pet had an accident or destroyed the blinds.
I recently helped a lovely young couple to purchase a home in Woodbridge. They initially contacted me about renting a home in Woodbridge, but then they decided to buy instead, mainly because they saw the advantages of buying and also the negatives about renting with their two dogs and cats. Here is their testimonial:

We couldn't possibly say enough good things about Claudia!! She jumped through hoops for us and found the perfect home to raise our family in. We moved to Woodbridge due to career change and started our search by looking at rental properties. Claudia helped us weigh the pros and cons and we quickly realized renting a home was not an option for us. In a matter of 16 hours, she had flipped our search to buying a property and had a very hard to choose from list of homes that matched our criteria perfectly. She helped us make educated decisions to narrow down the options and stayed focused and positive all during the crazy closing period!!! An added bonus is… she is one of our neighbors and regularly checks in to make sure we are settling in and still in love with our home! We can easily call her family! You would be making a huge mistake to pick a realtor some where else.
Even without pets there are so many advantages of buying versus renting. Stop making your landlord rich, put the money into your own pocket and start accumulating wealth.
Renting versus Buying
Advantages of Buying
When you own a home you currently have a great tax deduction. Interest payments are tax deductible. So if you compare renting versus buying, if you rent a home you can not deduct any rent payment from your end of the year taxes. I would say that's a clear advantage of purchasing a home. You should consult your tax attorney to determine how exactly you can benefit from this and if it applies to you.
When you own your home you are not making your landlord rich you are accumulating wealth. So lets say your monthly rent payment is $2000.- that means you are paying your landlord $24,000.- per year. Now imagine if you purchase a home and your mortgage payment is the same, well you can make mortgage payments and start accumulating wealth. That money will be going toward your mortgage, interest, insurance, taxes but also principal payments. The principal payments will accumulate and start building your wealth.
When you own your home you can do whatever you want. Well as long as they HOA or condo association approve your home improvement tasks. If you are renting you have to live with what the landlord will allow you and then if you are making any changes you are working for free for the owners and are improving their property not yours.
Advantages of Renting
If you know you are not going to be very long in a certain area it might be better for you to rent. Or if you are unfamiliar with a new area and you first want to get to know the new area.
You do not have to worry about any maintenance cost. The landlord is responsible to maintain the home and paying for repairs if something breaks down. Now the landlord can protect themselves from high cost and purchase a home warranty.
If you are just starting your home search process, or need advise contact The Claudia S. Nelson Realtor with eXp Realty in Woodbridge VA. I would be more then happy to assist you with all your Real Estate needs. Whether you are looking to buy your first home or your second or third home I am here to assist. I can help you buy, buy or sell a the same time. I have been helping home buyers in and around the Woodbridge VA area for a long time and would be delighted to assist you as well. If you are looking for your dream home you can find it right here: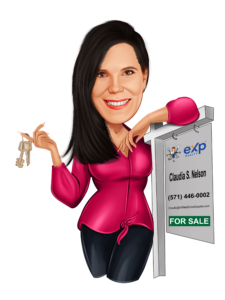 My Year in Review
Claudia S. Nelson
Call or Text 📞 (571)446-0002

Claudia's Tips for Home Sellers  👉 
click here
Find out your homes value 👉 click here to get an instant value
Pro tips for home buyers 👉click here
to learn more
Follow me on Social Media

👉 Facebook
👉 Instagram
👉 Linkedin
👉 YouTube
eXp Realty  ~ Woodbridge, VA ~ 703-665-3362
Licensed Salesperson in the Commonwealth of Virginia