11 Things to do in Woodbridge VA 
for Valentine's Day 
Bistro L'Hermitage 


Taste Valentines Romance at Bistro L'Hermitage. Bring your Valentine to this fine dining establishment. Be sure to make reservation as soon as possible as they tend to book up very quickly for all Holiday events. They are starting their special tasting menu on February 13.2023. There will be a set 3 course menu. Their options are always very delicious and I am sure you will love it. The atmosphere is very romantic, Bistro L'Hermitage is in the Top 100 romantic restaurants in the country. 

Escape Room 


Book an Escape experience at the Escape Room in Woodbridge VA. I love going to the Escape Room unfortunately my husband isn't as much a fan of it like I am. But this will be a great event to schedule for Valentine's Day. Just be sure to schedule well in advance. 

Muse Paint Bar 


Drink and Paint a perfect combination for Valentine's Day. Muse Paint is in Stonebridge at Potomac Town Center, which is a great place to pre-game or post game or simply just go and have a great time at Muse Paint Bar. You should start making reservations for Valentine's weekend as soon as possible. 

Stonebridge at Potomac Town Center – Ice Skating, dinner and drinks or movie and drinks
Stonebridge at Potomac Town Center is always a great place to go to and there are so many great things you can do for Valentine's Day at Stonebridge. You can go Ice Skating, dinner and movie at Alamo Draft House or simply go on a shopping spree and then have dinner and one of the great restaurants at Stonebridge at Potomac Town Center. You really can't go wrong taking your Sweetheart to Stonebridge, there is so much to do there. 
Potomac Mills – Round1
Take your love to Potomac Mills to one of the great restaurants at Potomac Mills and before or after go to Round1 for lots of fun. Round1 has arcade games, bowling, billiard and karaoke. This can be so much fun. There are some great restaurants outside of Potomac Mills Mall, Bahama Breeze, Cheesecake Factory, Silver Diner, Crafty Crab. 
Charbroil Grill Steakhouse
Brazilian Steakhouse is a unique dining experience like no other. On Valentine's Day they do not accept any reservation, seating will be first come first serve.
Neabsco Creek Boardwalk
If you would like to go for a romantic walk go to Neabsco Creek Boardwalk for a nice nature walk. This kind depends on the weather, if it is nice weather this will be a beautiful walk. Before or after the walk you can go to Stonebridge for a bite to eat. 
Spa Day
Book a spa day for you and your sweetheart of simply send your love for a nice and peaceful spa day at one of the many spas in Woodbridge VA. 
Netflix and Chill
You can cook a nice meal at home, order in, doordash or grubhub from your favorite restaurant and put on a nice romantic movie. Stay in and avoid all the craziness at the restaurants, simply go out another day when restaurants will not be so busy. 
Stroll and dinner in Occoquan
There are some great restaurants and shops in Occoquan. One of my favorite is Secret Garden but there are many more great restaurants to check out in Occoquan. 
The Black Sheep
This is a great restaurant at the 2 Silos in Manassas. Still very close to Woodbridge VA. This is a great romantic restaurant with excellent food. Be sure to make reservations as this will book really fast.
Here are some of my previous Blog post for things to do in Woodbridge VA for Valentine's Day:
2022 Valentine's Day
2021 Valentine's Day
2020 Valentine's Day 
2019 Valentine's Day 
2016 Valentine's Day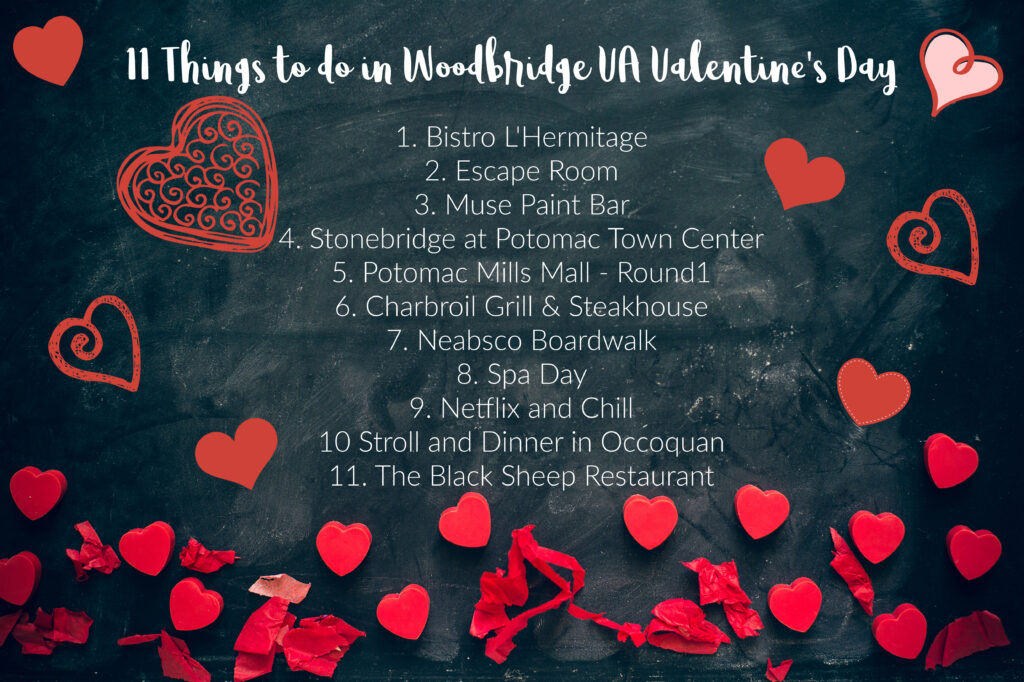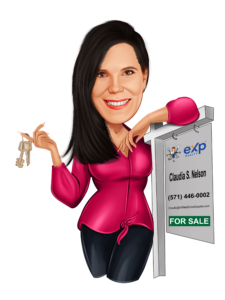 Claudia S. Nelson
eXp Realty
Call or Text 📞 (571)446-0002
Claudia's Tips for Home Sellers  👉 click here
Track your Homes Value 👉click here
Find out your homes value 👉 click here to get an instant value
Pro tips for home buyers 👉 click here to learn more
Follow me on Social Media
👉 Facebook 
👉 Instagram
👉 Linkedin
👉 YouTube 
eXp Realty  ~ Woodbridge, VA ~ 703-665-3362
Licensed Salesperson in the Commonwealth of Virginia