Why I love living in Woodbridge VA
Home Prices 




When I moved to Woodbridge I compared home prices to Washington DC and the Arlington and Alexandria area. Well let me say this right from the beginning, my single family home in Woodbridge has the same home value as some 1 bedroom condos in Washington DC, Arlington and Alexandria. After becoming a Real Estate Agent I really found out all the price advantages in this area compared to other areas. Prince William County in general but Woodbridge in particular offer great proximity to Washington DC, Tysons Corner, Quantico and Fort Belvoir and compared with what home buyers are paying outside or Prince William County further north – closer to DC or simply just over the bridge in Lorton (Fairfax County) its quite a nice surprise. Overall Woodbridge Home prices are affordable if you are comparing Fairfax, Arlington, Falls Church, Alexandria and of course Washington DC. 

Parking


Going into the City I always worry about parking and then if I park in a garage it is expensive. I never have to worry about parking in Woodbirdge. Well maybe  a little bit in the summer in Occoquan or around the holidays at Potomac Mills or Stonebridge at Potomac Town Center but I always find a space relatively easily.

Great Shopping & Restaurants 
When I originally moved to Woobridge VA there were not as many great restaurant options as there are now. We have so many great places to go out. Its not DC but it has lots of options and there will be even more options coming to the Woodbridge VA area. They just announced a Whole Foods Market is coming to Woodbridge, to the new Quartz District, which will be at the corner of Minniville and PWC Parkway. The development is still in the very early stages and still requires more approvals but it sounds like another Stonebridge at Potomac Town Center which is a great area for shopping and dining.


Lots of Parks, Golf Courses, Marina & Nature


So many great outdoors activities in Woodbridge. Lots of parks, Golf Courses, Marina's and so much more. If you want to be close to nature Woodbridge offers it all. Check out the link for all the parks in the above title and there are other outdoor activities as well.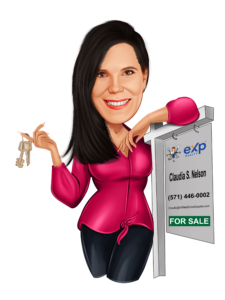 Claudia S. Nelson
eXp Realty
Call or Text 📞 (571)446-0002
Claudia's Tips for Home Sellers  👉 click here
Track your Homes Value 👉click here
Find out your homes value 👉 click here to get an instant value
Pro tips for home buyers 👉 click here to learn more
Follow me on Social Media
👉 Facebook 
👉 Instagram
👉 Linkedin
👉 YouTube 
eXp Realty  ~ Woodbridge, VA ~ 703-665-3362
Licensed Salesperson in the Commonwealth of Virginia