Enjoy this Woodbridge Real Estate Market Report for this month. You can also do a home search and save your favorite properties. Set up a search and be alerted as soon as a matching property hits our database. It's Exclusive.
What's Your House Worth?Get an Instant Estimate
Woodbridge Real Estate Market Predictions 2018
Whether you're planning to buy a new home or sell your existing home, it's a good idea to know more about the Woodbridge real estate market before you begin. Here's an overview of current statistics for August 2018.
July's median sale price was $322,000. This shows a drop from the $325,000 recorded last month. The median sale price for July also showed a 2.2 percent increase over the $315,000 from this time last year. The median price fluctuates depending on which zip code you're researching in the Woodbridge community.
Those in the 22192 zip code area saw a median sale price of $331,500. This amount shows a 4.4 percent increase over last year's $317,500. Zip code area 22191 brought a median home sale price of $318,000, which is 0.6 percent lower than last July's $319,900. The median home sale price in the 22193 zip code area is $320,000. Here we see another increase when it comes to the median sale price with a 4.9 percent rise from $305,000 last year. Read More
Market Reports from 2018
Market Report from 2017
Woodbridge Homes by Price
July 2018 Contract Snapshot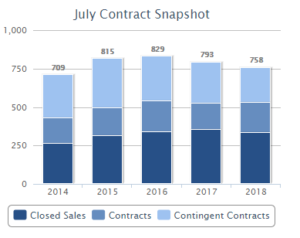 Woodbridge Homes for Sale
Wondering what your home might be worth? Find out instantly with our 15-second home value calculator.
Here are the most recent home listings just added to the database in the average price range for Woodbridge. All homes here are priced at $322,000 or less.