Things to Know Before Making the Move to Woodbridge, VA! Your Ultimate Guide to Embracing the Charm 
If you're thinking about making the exciting leap to Woodbridge VA a vibrant corner of Northern Virginia, you're in for a treat! As your friendly neighborhood real estate agent, I'm here to spill the beans on what makes Woodbridge so special and what you need to know before you pack those moving boxes and let me tell you it took my ex husband quite a bit convincing to get me to move to the suburbs and leave the city and my one bedroom rental apartment behind me. Let's dive into the heart of Woodbridge together! 
🏞️ A Slice of Scenic Serenity 🏞️
Prepare to be captivated by Woodbridge's natural beauty! Nestled alongside the picturesque Occoquan River, Woodbridge boasts stunning waterfront views and lush landscapes.  Whether you are a fan of peaceful parks or enjoy strolling along tranquil trails, the town's commitment to preserving its natural surroundings is sure to make you feel right at home. One of my favorite trails is close by my home Andrew Leitch Park but I also like to take the dog to Neabsco Creek Boardwalk. 
🏙️ The Best of Both Worlds 🏙️
Woodbridge is where suburban tranquility meets urban convenience! 🛍️🏢 Enjoy a range of shopping, dining, and entertainment options that rival big cities, all while relishing the close-knit community atmosphere. You can go to Stonebridge at Potomac Town Center and check out all the shopping there or relax and get a good bit to eat at one of the many restaurants at Stonebridge. One of the largest shopping centers in Woodbridge VA is the Potomac Mills Mall which offers not just outlet shopping but lots of great restaurants. It's the perfect blend for those who want easy access to modern amenities without sacrificing that neighborly feel.
👨‍👩‍👧‍👦 Community-Centric Living 👨‍👩‍👧‍👦
Woodbridge is more than just a town; it's a tight-knit community that thrives on connections. From local events that bring neighbors together to community initiatives that make a positive impact, you'll find ample opportunities to build lasting relationships and create cherished memories.
🏰 History Comes Alive 🏰
History buffs, rejoice! Woodbridge is steeped in rich heritage and tales of yesteryears. Explore historic sites like Rippon Lodge, which dates back to the 18th century, and journey through time at the National Museum of the Marine Corps or you can check out the historic town own Occoquan. 🕰️🔍 The past is truly alive and well here!
🏊‍♂️ Outdoor Adventures Galore! 🏊‍♀️
Outdoor enthusiasts, get ready for a world of adventure! From kayaking on the Occoquan River to hiking through scenic trails, there's no shortage of ways to enjoy the great outdoors. 🚣‍♂️🌲 The town's parks, waterways, and recreational spots ensure there's always something exciting to do, rain or shine.
🏠 Your Dream Home Awaits 🏠
Last but not least, Woodbridge offers a diverse range of housing options to suit every lifestyle and preference. 🏡🗝️ Whether you're seeking a cozy suburban retreat or a modern urban haven, you'll find the perfect place to call your own in this charming town.
So, whether you're drawn to the natural beauty, the sense of community, or the fusion of urban and suburban living, Woodbridge has something for everyone. 🌆🎈 As your go-to Woodbridge real estate agent, I'm here to guide you every step of the way. Let's chat, explore, and make your move to Woodbridge an unforgettable journey! 🤗🚀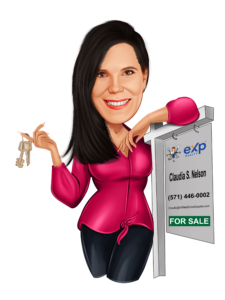 Claudia S. Nelson
eXp Realty
Call or Text 📞 (571)446-0002
Claudia's Tips for Home Sellers  👉 click here
Track your Homes Value 👉 click here 
Find out your homes value 👉 click here to get an instant value
Pro tips for home buyers 👉 click here to learn more
Follow me on Social Media
👉 Facebook 
👉 Instagram
👉 Linkedin
👉 YouTube