🌟 Unveiling the Hidden Gems of Woodbridge, VA🌟
Are you looking for something to do in Woodbridge VA? You might have out of town guest and you don't always want to go to Washington DC or Tysons Corner, you just want to do something close by. Here are some things I do with my family and friends. From nature escapes to historical treasures, there's something for everyone in Woodbridge VA. Let's dive right into the top-notch activities that will make your Woodbridge experience unforgettable.
🌿 Activity #1: Immerse Yourself in Nature's Beauty at Occoquan Bay National Wildlife Refuge
Calling all nature enthusiasts! If you're seeking serenity and natural wonders, the Occoquan Bay National Wildlife Refuge is an absolute must-visit. I highly recommend strolling along the beautiful walking trails and soaking in the pure essence of nature. Just remember, while you'll be captivated by the beauty, furry companions like dogs need to stay home for this adventure. Here is a quick video of one of our most recent walks at Occoquan Bay National Wildlife Refuge
🏞️ Activity #2: Rediscover Tranquility at Leesylvania State Park
When the warmer days roll in, there's no better place to be than Leesylvania State Park. With picturesque trails and a stunning beach, this park offers the perfect backdrop for a leisurely walk or a relaxing day by the water. Whether you're a nature enthusiast or simply looking for a peaceful escape, Leesylvania State Park has you covered. I love taking the dog on a long walk to Leesylvania State Park and of course my water loving dog always ends up at the beach. He loves coming here. 
🏰 Activity #3: Step Back in Time at Ripon Lodge
History buffs, rejoice! If you're fascinated by old houses and the tales they hold, Ripon Lodge is a must-experience destination. Immerse yourself in the charm of yesteryears and explore the historical significance of this remarkable place. Get ready to journey through time as you uncover the stories woven into the fabric of this enchanting lodge.
🛍️ Activity #4: Shop 'til You Drop at Potomac Mills Outlet Mall
For all you shopping aficionados out there, I've got just the place for you – the iconic Potomac Mills Outlet Mall. Discover an array of top-notch shopping opportunities in one of the largest outlet malls in the country. And the best part? There's more than just shopping here! Potomac Mills Mall has a great food court and there are lots of Restaurants around there. Just check out my video. Besides the restaurants you can also catch a movie at the AMC movie theater, play arcade games at Round One or go to Sky Zone where young and old can have lots of fun. 
🎖️ Activity #5: Honor the Heroes at the Marine Corps Museum
History comes alive at the Marine Corps Museum, located just up the street in Quantico. Dive into a sea of historical significance as you explore the captivating exhibits that honor the brave heroes of our nation. This museum is a testament to the dedication and sacrifices of our Marines, and it's an experience that will leave you in awe.
There are many more things you can do in Woodbridge VA this is just a very short list. If you are looking for Happy Hour spots I got you covered, looking for restaurants or things to do with the kids or with your furry friend I got something on that too. I live and work in Woodbridge VA and I have visited pretty much everything in and around Woodbridge VA. 
If you are thinking about moving to Woodbridge Virginia I got you. Of course I can help you with all your Real Estate needs so call me anytime but in the meantime here are some things you should know before moving to Woodbridge VA
I hope this was helpful if I missed something be sure to reach out to me chances are that I got the answer for you.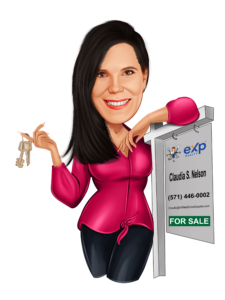 Claudia S. Nelson
eXp Realty
Call or Text 📞 (571)446-0002
Claudia's Tips for Home Sellers  👉 click here
Track your Homes Value 👉 click here 
Find out your homes value 👉 click here to get an instant value
Pro tips for home buyers 👉 click here to learn more
Follow me on Social Media
👉 Facebook 
👉 Instagram
👉 Linkedin
👉 YouTube